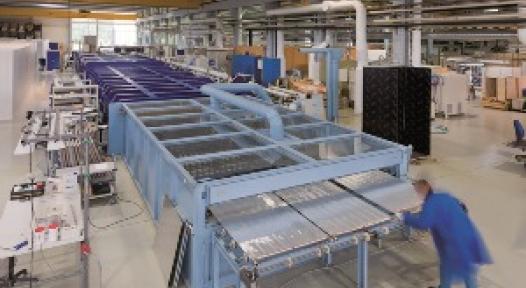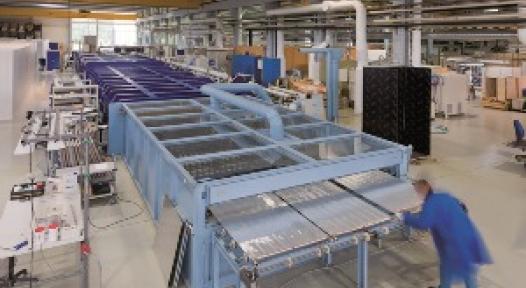 Finland: In-line Coating Machine for complete Direct-Flow Absorbers
A full aluminium direct-flow absorber with a newly developed coating from Finland won one of the three Solar Thermal Intersolar Awards at the Intersolar 2011 in Munich, Germany. The photo shows the respective in-line coating machine by Finnish company Savo-Solar Oy. In cooperation with the Danish company Hydro Aluminium Precision Tubing, both companies were able to impress the jury with the new developed "Savo-Solar Al-MPE" absorber. The other two prizes went to Vetter Gesellschaft für Medizinische Datentechnik, Bio- und Umwelttechnik mbH, Germany, for developing a parabolic trough collector which opens up a diverse range of installation possibilities, and to Swedish company Absolicon Solar Concentrator for a PVT collector combining solar power generation with the use of solar heat.
Photo: Savo-Solar Oy

"Our aim was to develop both a coating that could withstand high temperatures and a process that could coat entire absorbers at an excellent performance ratio," Kaj Pischow, CTO of Savo-Solar Oy, explains. The result: a new patented technology called MEMO coating. "The coating process involves the application of three layers, from which the first two are made with reactive magnetron sputtering. For the top layer, we use the Plasma Enhanced Chemical Vapour Deposition (PECVD) technique." Research into the technology began three years ago and produced an in-line coating machine with a capacity of 1 million m2, which can be fed with complete direct-flow absorbers up to a maximum size of 18 m2. The coating is said to have a 96 % absorption and 5 % emissivity rate, and was able to withstand temperatures of 550 °C. The measures were obtained in-house and during a test at the Portuguese University of Minho, but have yet to be confirmed by a test institute specialised in absorber coating.
The absorber consists of several Multi Port Extrusion (MPE) profiles by Hydro Aluminium. The MPE profiles (see small photo above) are made of the corrosion-free Hylife Solar aluminium alloy, and possess a width of up to 10 cm. To connect the MPE profiles, as well as the manifolds at the top and bottom, the company uses the aluminium brazing process CAB, a process well-suitable for mass production, too.
Photo: Savo-Solar / Hydro
"Right now, we are producing test samples and test series for customers," says Pischow. Savo-Solar Oy was founded in December 2009, and started operating four months later. Today, 18 people are working full or part time in the factory in Mikkeli, Finland. 70 % of the company is owned by key employees, 20 % belongs to the Clean Future Fund and 10 % to Cleantech Invest Oy.
More information:
http://www.savosolar.fi
http://www.absolicon.com
Dr Vetter: http://www.itcollect.de/ (German only)