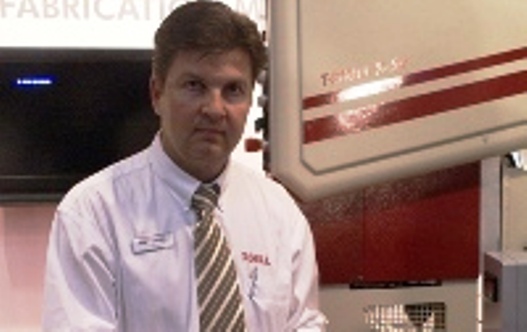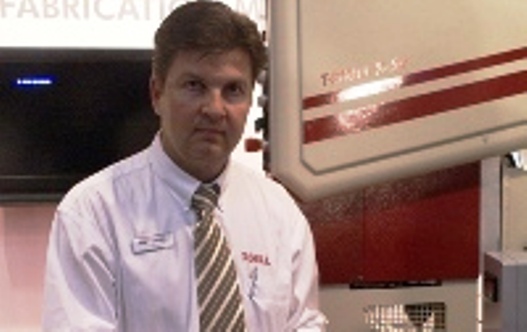 Finland / Germany: T-Drill presented at Intersolar Europe
Munich's Intersolar in June was the first-ever German event at which Finnish company T-Drill O presented its machinery. With a focus on pipe processing for solar thermal absorbers, the company offers T-Drill machines, as well as pipe cutting, pipe end closing and end forming machines. The photo shows Timo Lehtonen, Sales Director at T-Drill, presenting the main component of a T-Drill machine: the tool that can drill and collar during a single production step.
Photo: Bärbel Epp
According to Lehtonen, the T-Drill method was developed in the 1970s and has been improving ever since. Well-known solar collector manufacturers around the globe employ the technology in manufacturing their products, among them Sunrain (China), Viessmann (France), Astersa / Gamesa (both Spain), and Sunway de Mexico (Mexico). The Finnish company offers everything from collaring units with manual feed-in to flexible and fully automated, robot-based manufacturing cells or systems.
Not unlike the internal punching developed in Israel in the 1980s, T-Drill is a process to drive holes into flow and header tubes of either flat plate or vacuum tube collectors. But in contrast to internal punching, during which the tools are placed inside the pipe, T-Drill's complete drilling and collaring is performed from the outside.
The left of the two photos below shows the T-drill tool. The first step involves using the collaring head to drill a round hole in the pipe wall. After the tube wall is penetrated, two forming pins are extended from the drill bit (see photo on the left). Then, the collaring head is withdrawn automatically, forming a collar to accept the branch tube. According to company information, the collaring tool can be adjusted in 0.1 mm steps, regardless of the tool size: For example, a 10mm tool can be set between 8.8 and 10.3 mm. This reduces the number of collaring tools needed for the process, saving money on otherwise expensive equipment.
"The T-Drill method ends up with a straight collar, whereas the collars of punching holes are more of a conical shape," explains Lehtonen. "It facilitates brazing without fixtures, because the collar already holds the branch tube in the correct position".
The Sales Director recommends that the height of the required collar be three times as much as the branch tube's wall thickness, in order to achieve maximum joint strength. An indentation on the tube's one end could serve as a marker to ensure the tube will penetrate the run tube only up to the correct depth (see the figure above on the right).
More information:
http://www.t-drill.fi