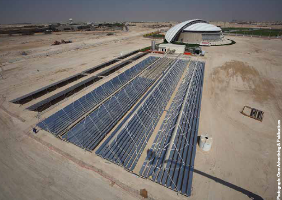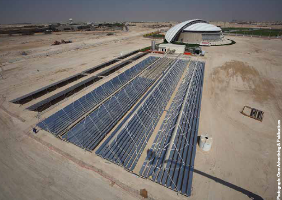 FIFA World Cup 2022: Solar-cooled, 500-seat Showcase Stadium in Qatar
Solar cooling plant in the middle of Qatar's desert: Manufactured by German Mirroxx, the Fresnel collectors with an aperture area of 1,400 m2 (700 kW) deliver the energy for an adsorption chiller which cools a showcase football stadium with 500 seats.
Photo: Gem Advertising and Publications
This demonstration building intends to show how renewable energies can be considered as an integrated aspect of architecture, engineering and infrastructure for the first time at scale in Qatar," Arup Associates explained in a September press release. The British specialists for sports buildings were responsible for the design of the showcase building. The structure is part of Qatar's bid to host the World Cup Games in 2022. The FIFA 2022 inspection team visited the site in the middle of September.
According to Arup Associates, it took only 4 months to finish constructing the showcase stadium with its outstanding design elements – a revolving canopy roof, summer-time air-conditioning and a photovoltaic system. Now fully operational, it receives its energy and cooling from the sun, leaving no carbon footprint behind.
Sustainability provided by a unique roof construction: The canopy roof can be opened during match times to let spectators and players take advantage of natural ventilation when the weather is suitable. If the ambient temperature is too high, the roof can be closed in the run-up to an event, in order to allow the solar cooling system to work at maximum efficiency.
Photo: Arup Associates
The uniaxially tracked primary mirrors of the Fresnel collectors focus the sunlight on a vacuum absorber tube in which water at 16 bar pressure is circulated to generate heat at temperatures up to 200°C to run the 2-effect adsorption chiller. The cooling energy from the chiller is collected in a storage unit below the stadium, in order to be used in the evening, blowing cold air into the air-handling units underneath the spectator seats. The Qatar installation has so far been the biggest solar field with Mirroxx Fresnel collectors. The company launched this product five years ago and has already set up several collector fields to cover heating and cooling demand in Southern Europe, North Africa and the Middle East.
More information:
Arup Associates: http://www.arup.com
Mirroxx: http://www.mirroxx.com