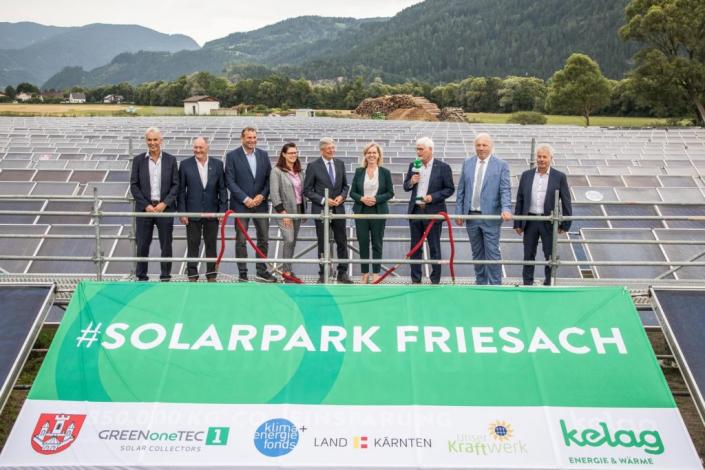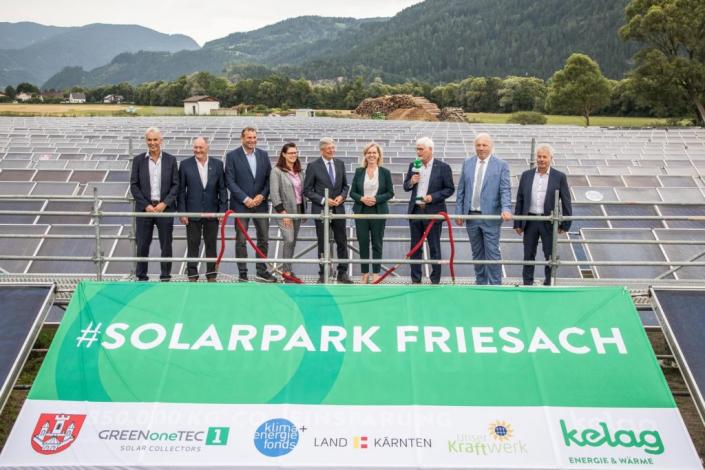 Feasibility studies on 13 solar heat plants underway in Austria
Solar district heating has turned around the steadily declining solar thermal market in Austria. As reported at the Austria Solar organisation's annual meeting in December, solar heat was in high demand all over the country last year. Of particular note was the second quarter, in which capacity additions made a big jump thanks to the commissioning of multiple large solar fields, such as the 5,750 m2 SDH plant in Friesach (see photo). Together, these fields accounted for 10,000 m2 of newly installed collector area in three months. The Austrian Climate and Energy Fund now expects further growth in multi-MW systems, as another 13 feasibility studies are already underway as part of its national support scheme. The 13 studies include a total solar heat capacity of 303,107 m2 (212 MW) – more than four times the amount put up in 2020 (53 MW).
Photo: Greenonetec
Austria Solar Managing Director Roger Hackstock reported that his association's members are in good spirits, adding: "The downward trend ended in 2021. For the first time in 12 years, we're expecting growth, perhaps even double-digit growth, in new collector area."
One example of that newfound optimism came from Greenonetec Managing Director Robert Kanduth, who said that "the inauguration of the plant in Friesach marked an important milestone in our company's history." As the largest collector manufacturer in Europe specialising in OEM products, Greenonetec delivered the collectors for the project, inaugurated in August 2021. But Kanduth also pointed out that project development for large-scale solar thermal systems usually takes about five years, which means a feasibility study conducted currently may not have much of an impact on collector area additions in the short term.
He then went on to say that Greenonetec's employees worked in three shifts during most of the last 12 months, as the turnover was up more than 80 % compared to the previous year. His business profited from above-average demand in several European countries, including Austria, Czech Republic, Germany, Italy, and the UK. Securing enough raw materials was a huge struggle, he said. Sometimes, there was a looming shortage of glass. Other times, delivery of aluminium or copper was a problem. But these were issues you were quite glad to have to deal with – after all, it felt great to have a market booming after 12 years of falling demand, he added.
EUR 45 million for large solar heat plants
A new, much higher budget is now also bolstering the grant scheme that supports large solar thermal plants, offering the country a unique opportunity to grow its solar thermal market further. The Climate and Energy Fund announced the EUR 45 million budget increase in May 2021, saying the money will be made available for conducting feasibility studies, putting up new large solar heat systems and monitoring them.
The first round of applications for the scheme ended in October 2021 and granted EUR 3.5 million in total to four projects while approving funding for three feasibility studies on collector fields totalling 54,580 m2 (see the table below).
| | | | | |
| --- | --- | --- | --- | --- |
| Submitted by | Type of organisation | Application | Planned collector area | Maximum grant |
| greeniXcloud Simona Alexe | Solar heat project developer | Industrial solar heat for a textile producer | 36,000 m2 | 96,350 EUR |
| SOLID Solar Energy Systems | Solar heat project developer | Solar district heating | 5,580 m2 | 35,000 EUR |
| Thannhausen | Styrian municipality with a total population: of about 2,500 | Solar district heating | 13,000 m2 | 75,000 EUR |
| Total | | | 54,580 m2 | 206,350 EUR |
Three new feasibility studies received grant approval in December 2021. Source: Climate and Energy Fund
Overall, however, the numbers were below expectations. For example, in 2020, the fund approved 18 projects with a combined CAPEX volume of EUR 6.1 million. And in 2019, it greenlit as many as 20 projects totalling EUR 8.1 million.
Still, Gernot Wörther, project administrator at the Climate and Energy Fund, is looking forwards to the next application period, set to start on 22 April 2022. "Most of the feasibility studies submitted for funding approval back in 2020 will be finalised in the first quarter of 2022, so we are positive that some of those studies will be among the projects submitted in that period." If so, that would be a huge leap forwards, as the collector systems envisaged as part of those 10 projects will have an average size of 24,853 m2 (17.4 MW), whereas the average system size in the 327 solar heat projects supported thus far has been only 414 m2.
Last year showed a big jump in long-term average plant size within the Austrian support scheme (in place since 2010), compared to the average collector area of the 10 feasibility studies submitted in 2020.
Source: Climate and Energy Fund
Organisations mentioned in this article: