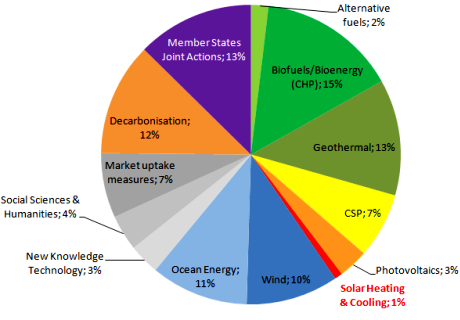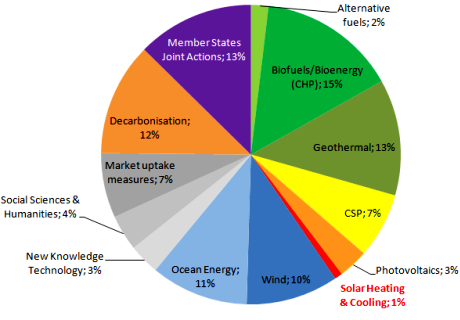 European R&D Programme Horizon 2020: Good Opportunities for Solar Thermal?
The European Commission introduced its work programme 2016/2017 for the R&D funding programme Horizon 2020 during two info days in Brussels on 14 and 15 September. One of the first presentations was by Paul Verhoef, Head of the Renewable Energy Sources unit at the EU's DG Research & Innovation, who showed that solar thermal has so far been gravely underfinanced during the 2014-2015 calls. The cumulated budget for solar heating and cooling was EUR 4.4 million out of a total of EUR 554 million, which means a share of less than 1 %. The pie chart, which depicts the allocation of the precisely EUR 553.8 million during 2014 and 2015, makes clear that energy sources such as ocean-based ones have received almost 10 times as much funding (EUR 41.4 million), and the Biofuels/Bioenergy sector has received an almost 20 times larger share of the total budget (EUR 83 million).
Source: DG Research & Innovation
"The lack of recognition of the solar heating and cooling sector at European level is entirely unacceptable, especially when considering that heat and cold are responsible for almost half of the final energy consumption in Europe," says Daniel Mugnier, Vice Chair of the European Solar Thermal Technology Platform (ESTTP). It is of key importance that the Commission understands the relevance of thermal energy, as the information days appeared to have been completely dominated by the topic of electricity – again. More specifically, greater attention should be paid to solar thermal in order to guarantee that it will not have to deal with underfunding a second time during the upcoming calls.
New energy (and resources) for research and innovation
Solar thermal has been "locked away" in several of the topics of the new Horizon 2020 Work Programme 2016/2017 entitled Secure, Clean and Efficient Energy. A number of calls for proposals are going to be launched between mid-October 2015 and May 2016, and all of them have their deadline before the end of 2016. The typical timetable includes a waiting period of 5 months before there are any evaluation results available for a submitted proposal and of 8 months for signing the contract and starting the project if approved.
The programme has two main sub-sections, each with a specific budget und sub-topics:
Energy Efficiency (EE): EUR 93 million in 2016
Heating and cooling
Engaging consumers towards sustainable energy
Buildings
Industry, services and products
Innovative financing for energy efficiency investments
Competitive Low-Carbon Energy (LCE): EUR 351.54 million in 2016
Towards an integrated EU energy system
Renewable energy technologies
Enabling the decarbonisation of the use of fossil fuels during the transition to a low-carbon economy
Social, economic and human aspects of the energy system
Supporting the development of a European research area in the field of energy
Cross-cutting issues
This is a large number of topics for one programme, and if solar thermal wants to have a chance, it will have to enter into tough competition with many other technologies. Regarding heating and cooling by solar, the rationale of the work programme is that, although providing a mature technology, the sector needs new solutions to expand technology use and that there are still issues regarding costs, performance and reliability in operation.
Plenty of calls available
Each of the sub-topics listed above will have several calls launched in 2016 only, in 2017 only or for both years. The table at the end of the article sums up the main calls which will end in 2016 and where solar thermal could be a fit. They are focused either on market and communication issues or on research and innovation. The descriptions of each call can be found in the attached draft of the working programme.
The LCE-07 call in 2016 is especially noteworthy. The call's topic for solar heating and cooling is innovative components for solar compact hybrid systems: It is necessary to improve the cost competitiveness, performance and acceptability of solar compact hybrid systems (heating systems combining a solar system and a backup-heater), address developments needed in the areas of improved components, make installation easier (plug and play), improve control and operation methods and provide a compact and simplified design. Single-family homes and/or multifamily homes and/or public buildings are particularly challenging targets, requiring the assessment of implications for the user in terms of system operation and maintenance.
Communication matters – more than ever
During the information days, one European Commission speech talked about communication activities within the EU-supported projects. The presentation title was self-explanatory: "Communication matters from day one". Well beyond the fact that dissemination is a formal obligation for all projects in any call, communication activities were defined "a top priority for the Commission", even for projects which only focus on research.
Communication is not only about sending an email on project results to your contacts. It is also about how these results are communicated: strategically and effectively, taking into account the message, targets, target groups, tools, etc. Hence, the invitation to professional agencies and companies to support the project consortium partners, because a detailed, consistent and ambitious communication plan should already be prepared before submitting the project proposal.
CODE

NAME

TYPE*

NEW CALL
IN 2017

LAUNCH
DATE

DEADLINE

INDICATIVE EU
CONTRIBUTION
PER PROJECT
(M€)

EE-03
Standardised installation packages integrating renewable and energy efficiency solutions for heating, cooling and/or hot water preparation

IA

No

15/10/2015

21/01/2016

3 to 4

EE-04
New heating and cooling solutions using low grade sources of thermal energy

RIA

Yes

15/10/2015

21/01/2016

3 to 4

EE-05
Models and tools for heating and cooling mapping and planning

RIA

No

15/10/2015

21/01/2016

2.5 to 3

EE-06
Engaging private consumers towards sustainable energy

CSA

Yes

15/03/2016

15/09/2016

1 to 2

EE-09
Engaging and activating public authorities

CSA

Yes

15/03/2016

15/09/2016

1 to 2

EE-16
Effective implementation of EU product efficiency legislation

CSA

Yes

15/03/2016

15/09/2016

1 to 2

EE-22
Project Development Assistance

CSA

Yes

15/03/2016

15/09/2016

0.5 to 1

LCE-07
Developing the next generation technologies of renewable electricity and heating/cooling

RIA

Yes

27/10/2015

16/02/2016

2 to 5
*IA: Innovation Action
RIA: Research and Innovation Action
CSA: Coordination and Support Action (quite similar to the previous Intelligent Energy Europe calls)
More information: