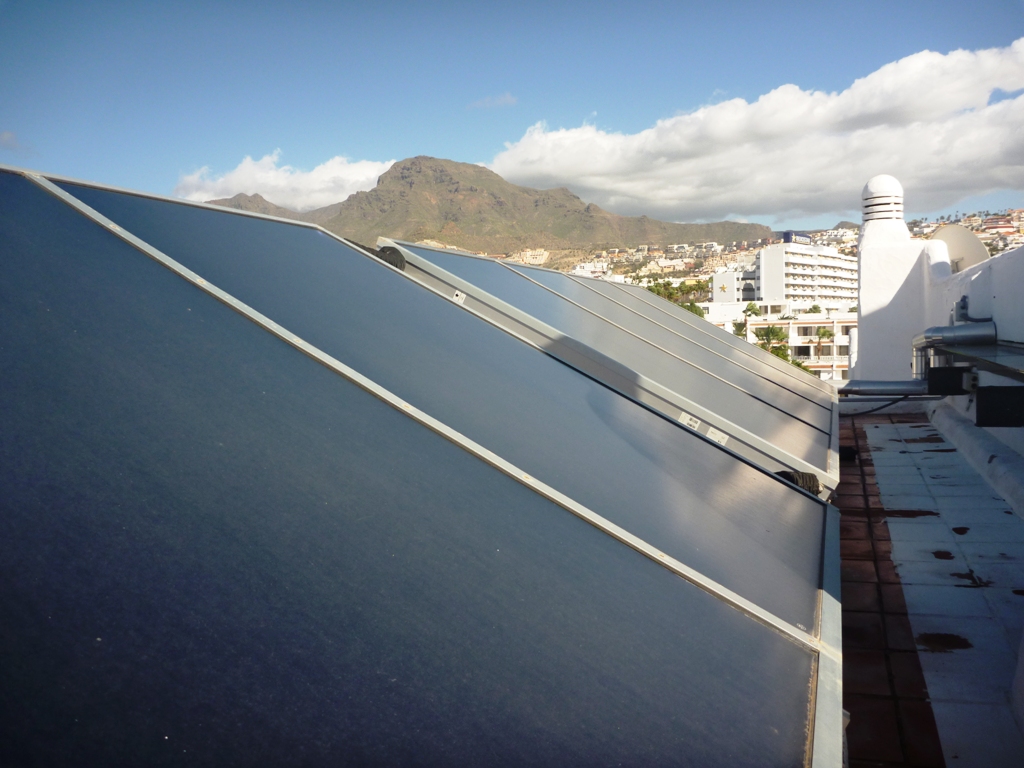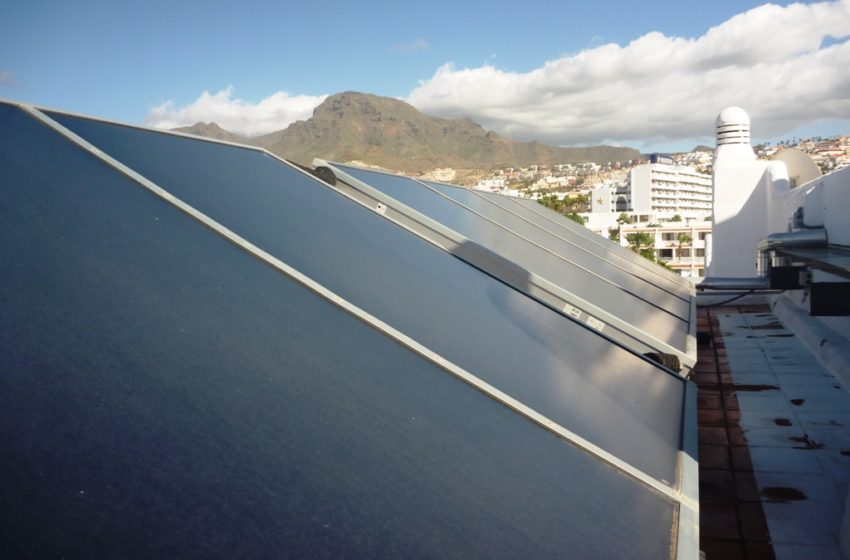 ESCO solar heat projects in Spain
More and more system suppliers are offering solar heat supply contracts, which reflects a growing trend in the solar heating and cooling market. And while most see Energy Service Companies, or ESCOs, as one among several options, Sumersol, based in Spain, specialises in this business, having signed contracts to supply heat produced by 34 solar thermal systems totalling 4,670 m² of collector area. One of its projects can be seen in the photo: a solar field installed on the roof of the Jardín Tropical hotel, on the island of Tenerife.
Photo: Sumersol
Sumersol was part of the first
solarthermalworld's ESCO ranking
in 2016, when it had reported eight systems totalling 750 m² of collector area. The Madrid-based business, founded in 2012, has a staff of 12 and sales partners in Andalusia and on the Canary Islands. Macarena Salazar, Director of Communications at Sumersol, stated that each of the company's 34 ESCO projects was located in Spain, with 18 of them supplying heat to hotels, nine to retirement homes, six to industrial sites and one to a hospital.
Free prefeasibility studies 
Sumersol offers customers free preliminary feasibility studies to see whether solar heat can be used in their buildings. "Users don't need to invest money during project development," said Salazar. "Once a project is approved, we will install the system and supply heat to the client based on a 20-year contract."
Sumersol owns, operates and maintains each plant throughout the contract period and bills customers for services and the initial investment by charging them a set price per kilowatt-hour. To mitigate project risk, it has incorporated into the contracts a clause that requires customers to pay a set amount of money each month even if they need to shut down operations temporarily owing to renovation or for other reasons.
The average specific turnkey cost of solar thermal systems installed by Sumersol is around 450 EUR/m² and solar heat is sold at a price ranging from EUR 0.05 to EUR 0.10 per kWh, which typically results in savings of 10 % to 15 % when compared to a customer's existing heating system.
In Spain, solar ESCOs benefit from funding by the IDEA, the Institute for Energy Diversification and Saving. Sumersol is an IDEA-approved technology supplier under the
Solcasa programme
, which has been helping ESCOs since May 2010. Each project supported by the scheme must be approved and supervised by the institute and has to lower energy consumption by at least 10 % from the first day of operation. IDAE often provides 10-year loans with a grace period of one year and very low interest rates. "For some specific projects," said Salazar, "we could get bank loans with similar terms."
| | | |
| --- | --- | --- |
| | Luve | Abama Resort |
| Location | Valencia | Santa Cruz de Tenerife |
| Thermal capacity | 74.66 kWth | 183.96 kWth |
| No. of collectors | 45 | 18 + 10 |
| Collector | Promasun 2.6 BLUE | Wagner LBM 10 HTF |
| Solar field size | 106.65 m² | 262.6 m² |
| Turnkey CAPEX | EUR 52,000 | EUR 195,000 |
| Solar thermal output | 93,510 kWh/year | 279,040 kWh/year |
| Fuel savings | 8,350 m3/year (natural gas) | 26,830 litres/year (diesel) |
| CO2 savings | 23.5 tonnes/year | 86.8 tonnes/year |
| Solar heat cost | 0.055 €/kWh | 0.095 €/kWh |
Data on two hotels that benefit from heat supply contracts they have signed with Sumersol.
Source: Sumersol
Organisations mentioned in this article: