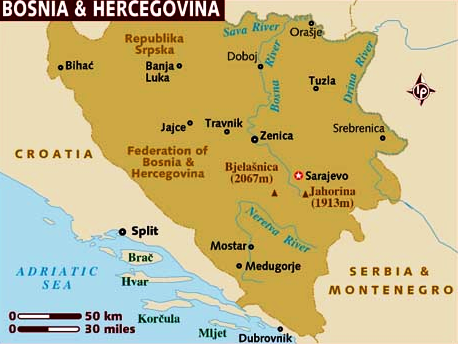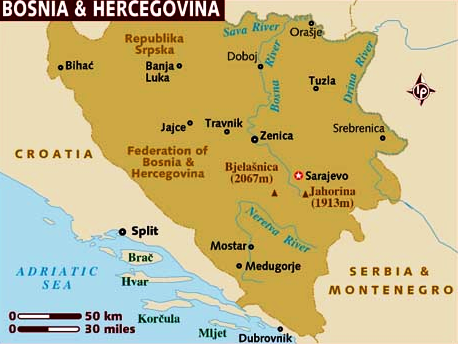 Energy efficiency funding in Bosnia and Herzegovina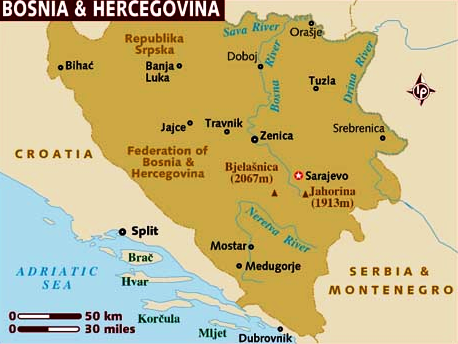 The Jugoslav Wars of the 1990s slowed down the rate of energy-related retrofits in the residential and public sectors of Bosnia and Herzegovina. Recently, however, the country has seen some improvement in the amount of funding available for clean heating technologies, such as solar thermal, biomass boilers and heat pumps. In early April, the European Bank for Reconstruction and Development, or EBRD for short, provided MKF Partner, a Bosnian microfinance institution, with EUR 5 million for low-interest loans and grants to make residential buildings more energy-efficient. It was the second time the EBRD had allocated funding to financial institutions in the country. Last November, EUR 17 million went to three Bosnian banks, as part of the EBRD's Green Economy Financing Facility. 
Map: lonelyplanet.com
The money is being used to offer loans that range from Bosnian Mark (BAM) 1,000, or around EUR 513, to BAM 50,000, or around EUR 25,666, and are taken out for the purchase of either solar hot water systems, solar space heating, biomass boilers or heat pumps. If a project is implemented successfully, borrowers will receive grants to cover between 15 % and 35 % of the eligible costs. Applications can be submitted by building owners, housing associations and suppliers of renewable heating systems.
UNDP: USD 123 million over 8 years
Another, but bigger, project is the initiative that the Green Climate Fund launched in October 2017. It provides USD 123 million for the Scaled-Up Investment in Low-Carbon Buildings over 8 years. Sezin Sinanoglu, UNDP Resident Coordinator in Bosnia and Herzegovina, estimates that the programme will create more than 5,000 jobs during its run. "Utilising Bosnia-Herzegovina's vast renewable energy resources, such as biomass, biogas, solar and others, while simultaneously investing in energy efficiency has the potential to play an instrumental role in reducing the carbon footprint and the energy consumption of public buildings," Sinanoglu said when presenting the project in Egypt.
Sweden: Help with energy-efficient public buildings
In mid-February, Sweden provided EUR 4 million for Bosnia´s Green Economic Development project. The funding, available until 2020, will be used to install solar collectors and biomass boilers in 54 public buildings and solar water heaters in the homes of 24 low-income families in the countryside. Marie Bergström, Head of Development Cooperation at the Swedish Embassy, hopes that the measures will save more than BAM 1 million, or EUR 513,000. "The Swedish government is strongly committed to supporting Bosnia and Herzegovina in its efforts to reduce carbon emissions. We are assisting agencies at all levels of government, as energy efficiency offers citizens economic, social and environmental benefits. Steps taken by these agencies today will impact the country's carbon footprint over the next decades," Bergström said.
There are no reliable statistics about how many solar water heaters have been installed in Bosnia and Herzegovina, but there is no doubt that solar heating and cooling has great potential. The country's lack of economic strength is made up for by a maximum of 270 sunny days a year and irradiation levels between 1,240 kWh/m² in the north and 1,600 kWh/m² in the south. Some experts believe that the current funding may lead to the dawn breaking over a domestic clean energy industry. The 3.5 million people living in Bosnia and Herzegovina will certainly get easier access to low-interest loans to implement retrofits and small renewable projects, such as solar heating and cooling units. It's high time that something is being done, as the average energy consumption in public buildings in Bosnia and Herzegovina is three times higher than the average in the European Union, according to Mirko Šarović, Economic Minister of the country.
Organisations mentioned in this article: