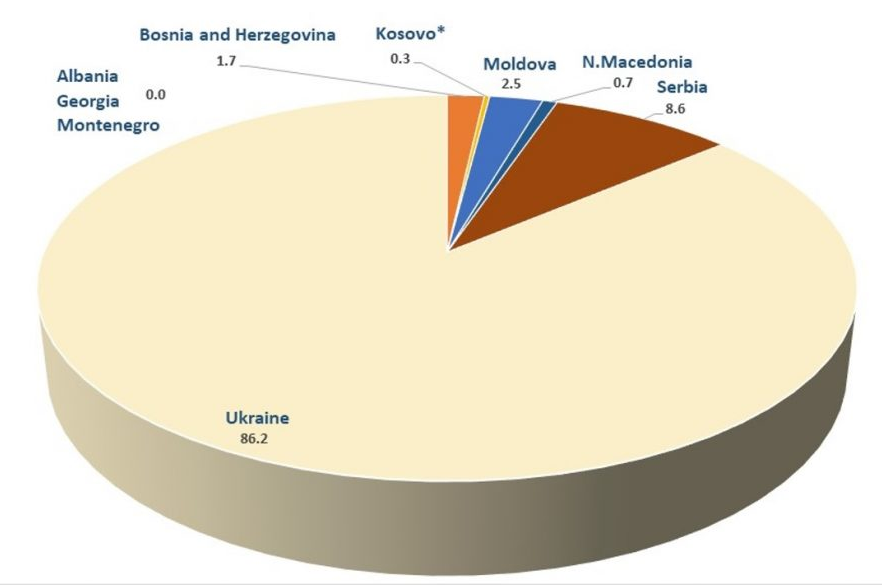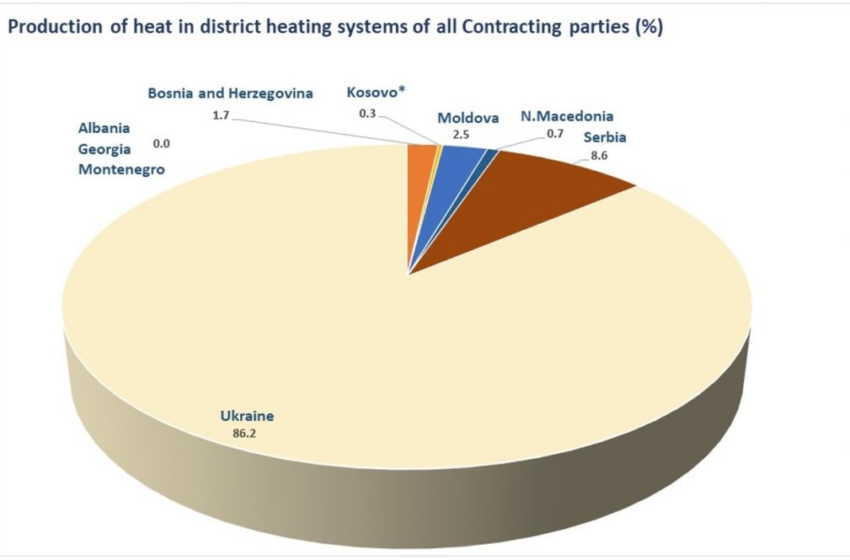 Energy Community aims for 0.01 % to 3 % solar share in heating sector
Vienna-based Energy Community's launch of a Heating and Cooling Network in September 2020 was a clear indication that it wants to move beyond its current focus on renewable electricity and support sustainable heating and cooling. In early May, it published a discussion paper on district heat tariffs, in which its experts pointed out that DH is poised to become a "key component of the transition to a smart and integrated energy system and a decarbonised economy by 2050". But whether DH businesses can "properly maintain and modernise their infrastructure and invest in sustainable energy sources", they added, will depend "on the rules of tariff setting and the way they are applied." The chart above shows the Community's total amount of district heat, which is 91.5 TWh in all, and the contribution of each member country, a list led by Ukraine (86.2 %) and Serbia (8.6 %). 
Chart: Energy Community
The Energy Community is an initiative between the European Union and nine Contract Parties – the six Western Balkan countries of Albania, Bosnia and Herzegovina, Kosovo, Montenegro, North Macedonia and Serbia, plus Georgia, Moldova and Ukraine. The aim is to support these potential – largely Eastern European – candidates for membership in aligning their national laws with EU energy regulations.
"Our focus is still on renewable electricity. But the European Union's adoption of a revised Renewable Energy Directive in June 2018 also gave us the EU's first-ever target for heating and cooling," EnC Secretariat's Communications Officer Barbora Poyner said when solarthermalworld.org inquired about the shift in strategy. Poyner referenced the
directive's article 23
, which requires that member states increase their proportion of renewable heat by 1.3 percentage points each year up to 2030, with waste heat being allowed to contribute up to 40 % to the (non-binding) target. According to Poyner, the contribution of district heat is 1 percentage point, which is why "district heating and cooling is attracting so much attention these days."
Chart illustrating the challenge of growing the annual contribution of solar heat from 0.6 to 1.3 percentage points. The next revision of the Renewable Energy Directive as part of the European Green Deal is said to happen this summer and will, most likely, make the 1.3 percentage target binding on all EU member states.
Chart: IEA SHC Task 55
Rosy mid-term outlook for solar heat
Poyner said solar thermal energy is a "welcome addition to the current range of technological options, being very much in line with environmental, state aid and sector-specific rules." However, despite the EnC region's large amount of solar resources of up to 2,000 kWh/m2 a year, only 0.01% of buildings and industrial facilities use solar thermal technology, Poyner said. The only exception is Albania, where the solar thermal share is more than 1 % of the energy demand from buildings. By far the most widely available source for heating across the region is biomass, also the preferred option for renewable DH networks. "But there are initiatives to stop treating biomass as carbon-neutral, since burning it releases greenhouse gases," she added.
Still, there are bright prospects for solar heating and cooling in the Energy Community in the medium term, Poyner said. In Serbia alone there are four new solar heat systems in the pipeline, , and there is even a feasibility study being conducted for a large solar district heating project in Pristina, Kosovo's capital (see the following news articles about SDH activities in
Serbia and Kosovo
).
At present, the EnC Secretariat is helping their member countries to draft their National Energy and Climate Plans (NECPs). "We recommend policy instruments that promote clean solutions in the heating sector. Most contract parties could scale up the deployment of solar thermal technology substantially, not only to provide affordable hot water in residential and commercial buildings but also to offer competitive low-temperature heat solutions in some industrial subsectors," she noted. Poyner estimates that solar heating and cooling could reduce the contract parties' demand for fossil fuels in the heating sector by about 3 % in 2030.
More information: