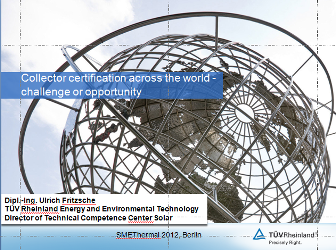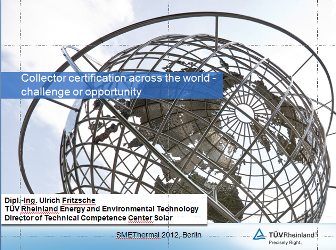 Presentation U. Fritsche
EN ISO 9806: Upcoming Global Collector Standard
In February, Ulrich Fritzsche took the collector manufacturers that were gathered at the SMEThermal 2012 conference on a special tour around the globe. His presentation in Berlin, Germany, listed the collector standards and quality guidelines across the world's key solar thermal markets: Australia, Brazil, China, India, Turkey and the USA (see the attached presentation). All in all, the Director of the Technical Competence Center Solar Thermal at TÜV Rheinland shed light on six different standards and their requirements to test systems locally. The differences between each testing procedure are one of the reasons why global trade is rather expensive for collector manufacturers.
Figure: TÜV Rheinland
All of this could change next year when the International Organization for Standardization (ISO) will adopt its new collector standard ISO 9806. The new specifications are based on European standard EN 12975, which is currently under revision. The global standard was made possible by an agreement in Germany from September 2011 between technical committees ISO TC 180, with Chairman Ken Guthrie from Australia, and the TC 312 from the European Committee for Standardization (CEN), chaired by Costas Travasaros from Greece.
"Once the technical committees TC 180 and CEN/TC 312 have worked out the details of the new norm, it will be sent to the national standard committees of companies participating in the ISO. They will have to approve it," Stephan Fischer explains the next steps, which should be done by the second half of 2013. According to the expert on standards, who works at the Institute for Thermodynamics and Thermal Engineering at the University of Stuttgart, the new world standard will make it easier to agree on globally uniform testing requirements, and to remove existing national norms and standards for solar collectors.
The EN ISO 9806 will replace the current versions of the ISO 9806 and the EN 12975-2 testing regulation. The EN 12975-2 dates back to 2006 and the ISO 9806 is about 20 years old – too old for new technologies. For example, hybrid collectors or concentrating systems have not yet found their way into these regulations. The old standards also lack guidelines on the performance measurements of air collectors, which have been available for decades.
More information:
Technical Committee ISO TC 180: http://www.iso.org/iso/iso_technical_committee?commid=54018
Technical Committee CEN/TC 312: http://www.cen.eu/cen/Sectors/TechnicalCommitteesWorkshops/
CENTechnicalCommittees/Pages/default.aspx?param=6293&title=CEN/TC%20312
TÜV Rheinland: http://www.tuv.com/st
Research and Test Center of the Institute for Thermodynamics and Thermal Engineering at the University of Stuttgart: http://www.itw.uni-stuttgart.de/abteilungen/tzs/index.php (in German)
A long version of this article has been published in Sun & Wind Energy 5/2012.