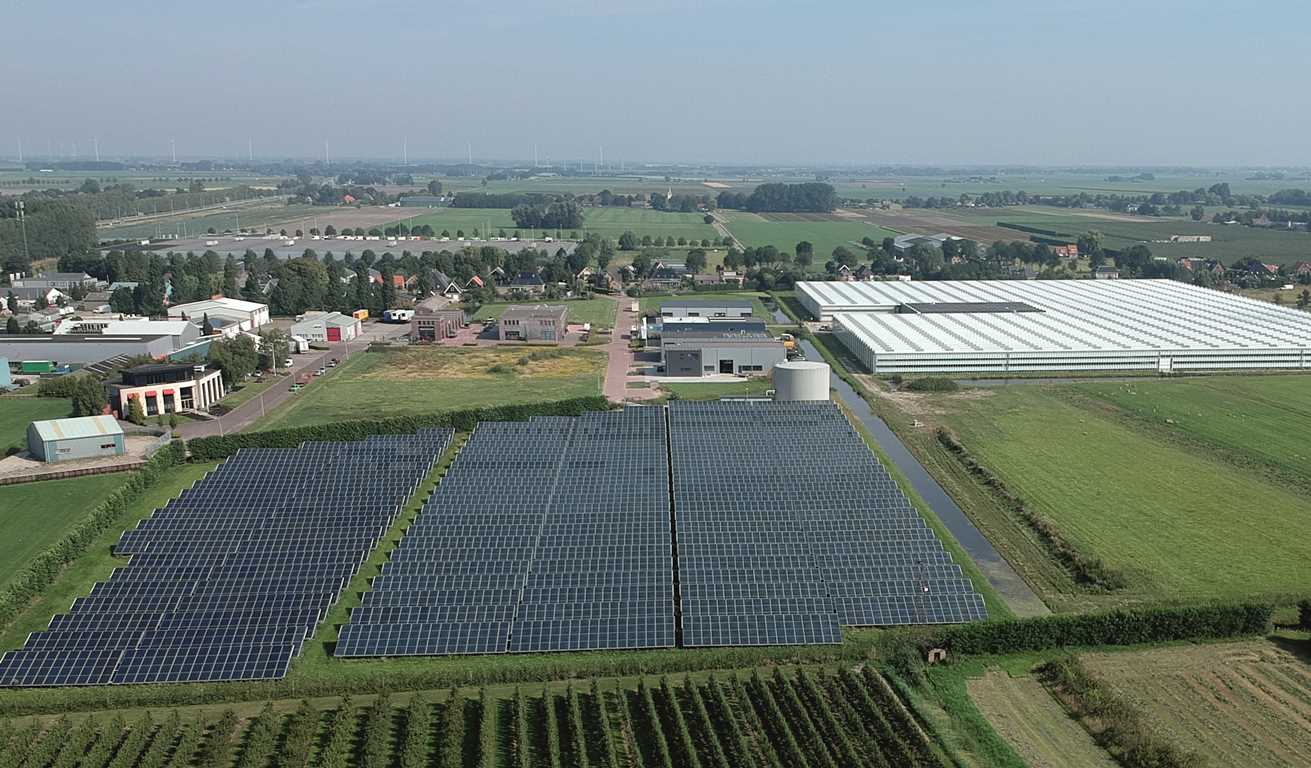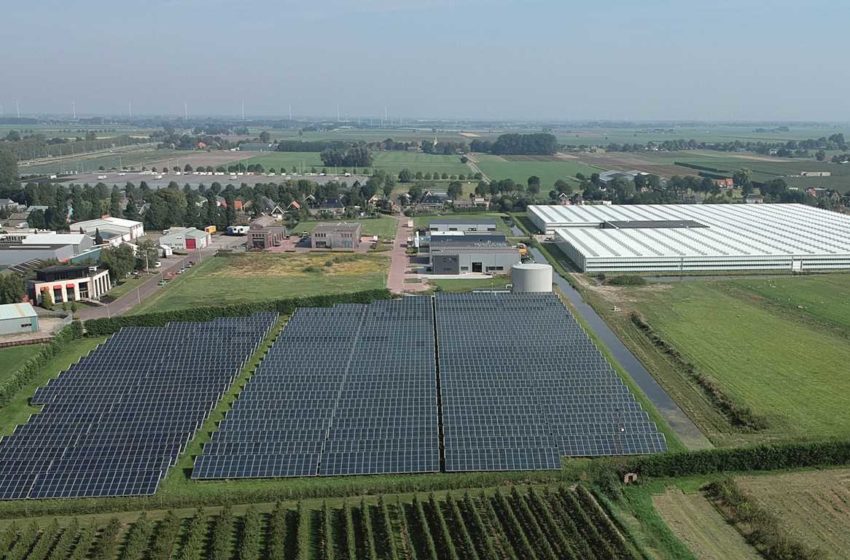 Dutch green heat tariff prompts record-size SHIP plant
Flower farmers and brothers Jeroen and Marco Mol have saved about 875,000 m3 of gas a year since starting up a new 10.5 MWth collector field in April 2020 in Nibbixwoud in the Netherlands. To implement the project, they partnered with G2 Energy, a Dutch company that provided them with a turnkey drain-back solar solution to heat their greenhouses. The system went on to become 2020's largest industrial solar heat installation worldwide according to a Solar Payback survey. Its flat plate collectors were produced at the G2 Energy factory in Uddel.
Energy costs are the Mol family business's second biggest expenditure, as they have 4 hectares of greenhouses that need to be heated all year round. Energy collected by the solar field is stored in a 1,500 m3 water tank at a temperature of about 40 °C to 90 °C during the day before being transferred to radiators inside the greenhouses at night. Any surplus in summer goes into an underground aquifer storage system with 160 m3.
A fateful trip to Denmark
The brothers' interest in solar collectors was piqued during a gardening fair that took place four years ago. "We were so excited about the whole idea that we took a trip to Denmark. We wanted to see the large collector fields for ourselves," Jeroen Mol was quoted as saying in the magazine Marktgids Zonne-Energie 2021. The Danish investors they met spoke so enthusiastically about their experiences with the installations that the brothers decided to make their business more sustainable as well. 
What convinced both farmers to partner with G2 Energy was the fact that its solar fields use distilled water instead of glycol. 
In addition, the Nibbixwoud plant is protected against frost by a drain-back function, which is part of the solar circuit. "Subzero temperatures will cause the system to self-drain to prevent pipes from freezing and bursting. Overall, our 15,000 m² plant is made up of three subfields. Water recovered in any of these is stored in a 60 m³ tank in a basement," said G2 Energy Account Manager Kees Molenaar. 
Solar heat tariff paid during 15 years 
The Netherlands' SDE++ programme also makes the investment financially appealing. SDE++ pays, over 15 years, a tariff per kWh produced, in an effort to bridge the gap between the market and production price for a certain type of renewable heat source. Maximum tariffs change with each new round of applications, which can be submitted once a year during a specified time frame. 
The owners of the Nibbixwoud plant have started with a tariff of 78 EUR for a maximum, eligible yield of 7,350 MWh a year. The solar heat tariff is adjusted on an annual basis depending on the natural gas price.
The plant is not the first heating system G2 Energy built for an owner of large greenhouses. In March 2019, it commissioned a 6.5 MWth (9,300 m2) field of collectors for Freesia grower Tesselaar
. Shortly thereafter, G2 Energy began putting up the 10.5 MWth plant in Nibbixwoud, which took nine months altogether. "We are currently in discussions for new greenhouse horticulture projects with municipalities and consulting firms," said Molenaar. Those potential clients could then also apply for the attractive tariffs paid by SDH++.
| | |
| --- | --- |
| Size of solar field | 10.5 MWth (15,000 m2) |
| Type of collector | Flat plate collectors produced in Uddel, Netherlands |
| Buffer tank for daily storage of solar heat | 1,400 m3 |
| Estimated annual yield | Maximum: 8,100 MWh p.a. |
| Specific annual yield | 540 kWh/m2 p.a. |
| Annual gas savings | Maximum: 875,000 m3/a |
| SDH++ solar heat tariff in first year | 78 EUR/MWh |
| Total investment costs | EUR 4 to 5 million |
Key figures for Nibbixwoud solar heat plant.  Source: G2 Energy