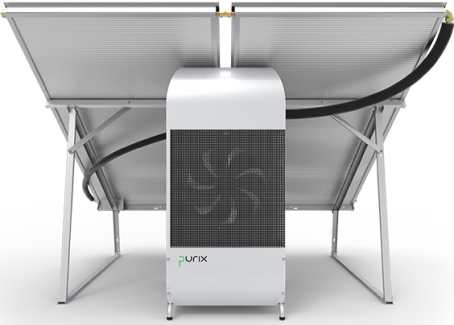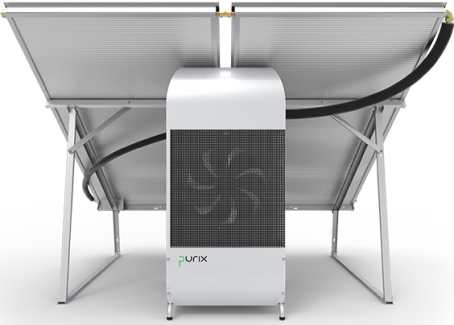 Denmark/Italy: Green Cooling Kit from Purix Addresses Growing Split Chiller Market
Cooling demand is growing worldwide and has already resulted in more than 125 million electricity-driven split chiller units installed in residential and commercial buildings each year. Danish company Purix aims at exactly this growing market segment with a green solution. "We offer plug & play solar cooling systems, either of mono- or multi-spilt design," explains Lars Munkøe, Director and co-founder of Purix. The company was established in 2011 as a spin-off initiated by an R&D engineer in cooperation with Danish company Exima, a service provider for corporate responsibility. "Prior to the founding of Purix, the partners had designed and operated prototypes for a year, filed a patent application and gathered market intelligence," explains Munkøe. The photo shows the outdoor unit of the cooling kit, including a Purix A25s chiller and two conventional collectors, which can be operated in a heating mode as well.
Photo: Purix
In 2012, Purix's Denmark headquarters set up production and sales company Purix Srl in Italy. According to Munkøe, the production in Italy is being ramped up – with an annual capacity of 18,000 units to be achieved within 3 years. At the same time, the company is increasing its marketing efforts. "As 2015 is the first year during which we supply systems to the markets while building up sales channels, our humble target of a few hundred units sold mainly within the European Union seems to be within reach," says the Purix director.
The outdoor unit consists of a single-stage, 2.5-kW absorption chiller based on lithium bromide (LiBr) and water as the natural refrigerant and the cool transfer medium to the indoor units. It is driven by two conventional flat plate collector panels with an entry temperature of above 70 °C. Purix offers a number of indoor cooling devices driven by cooled water at 13 °C.
The complete mono-split kit made up of the chiller, two collectors, the collector mounting system and a single wall-mounted fan coil is offered at EUR 3,925 without VAT in the 2015 price list. This sets a new benchmark in the solar cooling sector, with specific costs of 1,570 EUR/kW especially for small cooling capacities below 10 kW.
The chiller comes in a stand-alone version and in a design which allows it to be connected to a central heating system in case solar radiation is insufficient or not available. "For most residential A/C application, operation during daylight hours would be sufficient in combination with the use of the building as passive energy storage," explains Munkøe.
Manufacturer specifications claim a rather high design value of 0.8 kWcool/kWthermal at an ambient temperature of 35 °C, which is achieved by the integration of the solar heat into the absorption cycle. Electricity demand is said to be as high as 16 kWcool/kWel when the system employs fully modulating circulation pumps and fans adapting electricity consumption based on outdoor temperature and cooling load. When asked for third-party monitoring results that could confirm these high efficiency values, Munkøe's answer remains rather vague: "The coefficient of performance has been verified to match specifications." He adds: "There have not yet been any test standards available for solar cooling installations. We would be greatly interested in the establishment of standards for product performance assessment and the development of testing methods."
Websites of companies mentioned in the article: