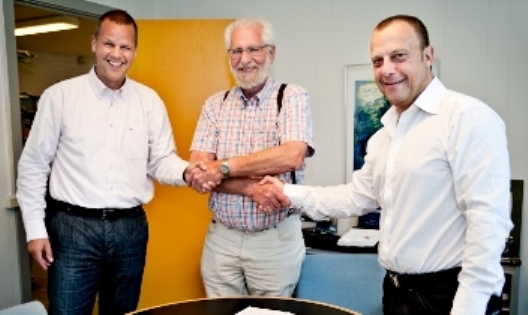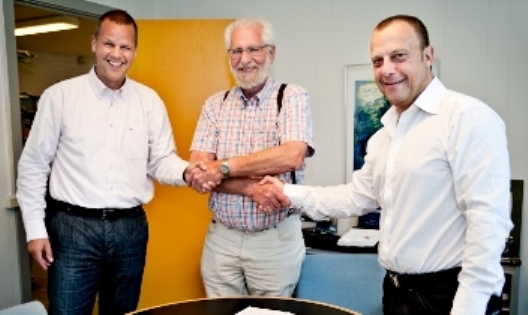 Denmark: New BATEC Owners Supply Collectors and Coating
Shaking hands with arms crossed: The former owner of BATEC Solar, Emanuel Brender (middle), will continue to support the Danish company's new owners Lars Sabroe Thomsen (left) and Michael Junge. A respective purchase contract was signed in August 2011.
After founding collector manufacturer BATEC Solar 36 years ago, Emanuel Brender stayed on board as Managing Director of the company just up until recently. "Today, I am 65 years and ready to retire," explains Brender, who was also one of the initiators of the first European solar thermal association in Brussels, called European Solar Industry Federation (ESIF), in 1986/87.
Still, Brender will continue to support the new owners of BATEC Solar, Michael Junge (Technical Director) and Lars Sabroe Thomsen (Administrative Director), who bought the company this August. "We want to grow the business," explains Thomsen. "We became interested in solar technology and preferred an investment in solar thermal." It was through a screening of investment possibilities that they got to know Brender and his company BATEC Solar with its eight employees.
In a second step, the new owners of BATEC Solar also took over the coating line of the company ChromeCoat, which specialises in highly selective black chrome coating of absorber fins and was run as a joint-venture between BATEC Solar A/S and Israeli collector manufacturer Chromagen Ltd.
"The trend in the solar thermal industry towards aluminium absorbers has slowed down the business of ChromeCoat over the years," explains Brender. "And this although tests have shown that our BlackSelect coating on copper is superior to other coatings in terms of corrosion resistance and thermal stability," says Brender. "We will continue to produce BlackSelect coating under the roof of BATEC Solar," confirms Thomsen.
More information:
http://www.batec.dk