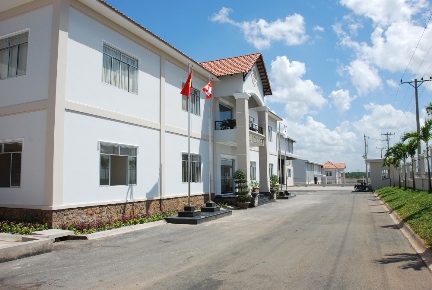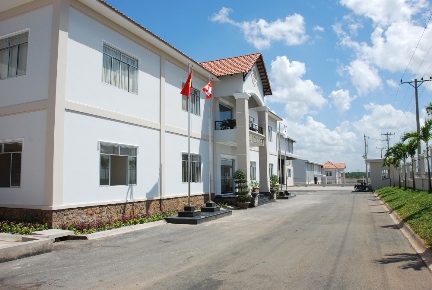 Denmark: New Arcon-Sunmark Focuses on Large-Scale Turnkey Installations
Danish VKR Holding purchased collector manufacturer and turnkey system supplier Sunmark Solutions, also from Denmark, and incorporated the company into subsidiary Arcon Solar. The two firms have now merged to become Arcon-Sunmark, a direct subsidiary of VKR Holding and headquartered in Skørping in Northern Jutland, Torben Sørensen, Chairman of the Board of Arcon-Sunmark, says in a press release from 3 February 2015. Sørensen quit his job as CEO of Danish VKR subsidiary SolarCap, which was shut down and all its stakes divested in the course of 2014. Solarthermalworld.org has reported on the buyout of Sonnenkraft, as well as Greenonetec. The photo shows the Vietnamese collector production factory of Sunmark Solutions.
Photo: Sunmark Solutions
According to the above-mentioned press release, VKR Holding now focuses entirely on the considerable potential offered by large-scale solar thermal installations. "As we see it, the two companies perfectly complement each other in terms of main competences, production set-up and sales focus," Sørensen says.
The merger guarantees capacity for further growth in the large-scale segment. The former Sunmark Solutions office with its currently ten employees in Marstal will stay. Hans Grydehøj, former owner of Sunmark Solutions, will become International Sales Executive at Arcon-Sunmark, with special responsibility for industrial process solutions. Grydehøj founded Sunmark Solutions after the insolvency of its predecessor,
Sunmark A/S
, in February 2014. Søren Elisiussen, former CEO of Arcon Solar, will become CEO of Arcon-Sunmark.
Production capacity in Danish Skørping and Vietnam's Ho Chi Minh City
In addition, Sunmark Solutions´ collector factory in Vietnam will help reduce future capacity bottlenecks in the Arcon factory in Skørping. The Vietnamese factory has 45 employees right now, but this figure will more than double once the company realises large-scale international projects, the press release states. "The operation's employees have considerable experience with the production of solar panels and will consequently, from day one, constitute a significant part of Arcon-Sunmark's total production capacity."
In recent years, Sunmark has focused on the international market, especially on South America. In 2013, the company was responsible for the turnkey delivery of a 39,300 m² collector field, the world's largest solar thermal installation to date, to the
Gaby copper mine
of state-owned mining company Codelco in Chile.
Large-scale international projects in the making
According to Grydehøj, Sunmark has several large international projects in the pipeline, which it can now realise with the help of VKR Holding's strong financial backing. "Our pipeline is very promising. Together with Arcon Solar, and with VKR Holding as our owner, we now have the right set-up to realise our international ambitions," Grydehøj emphasises in the press release.
More information