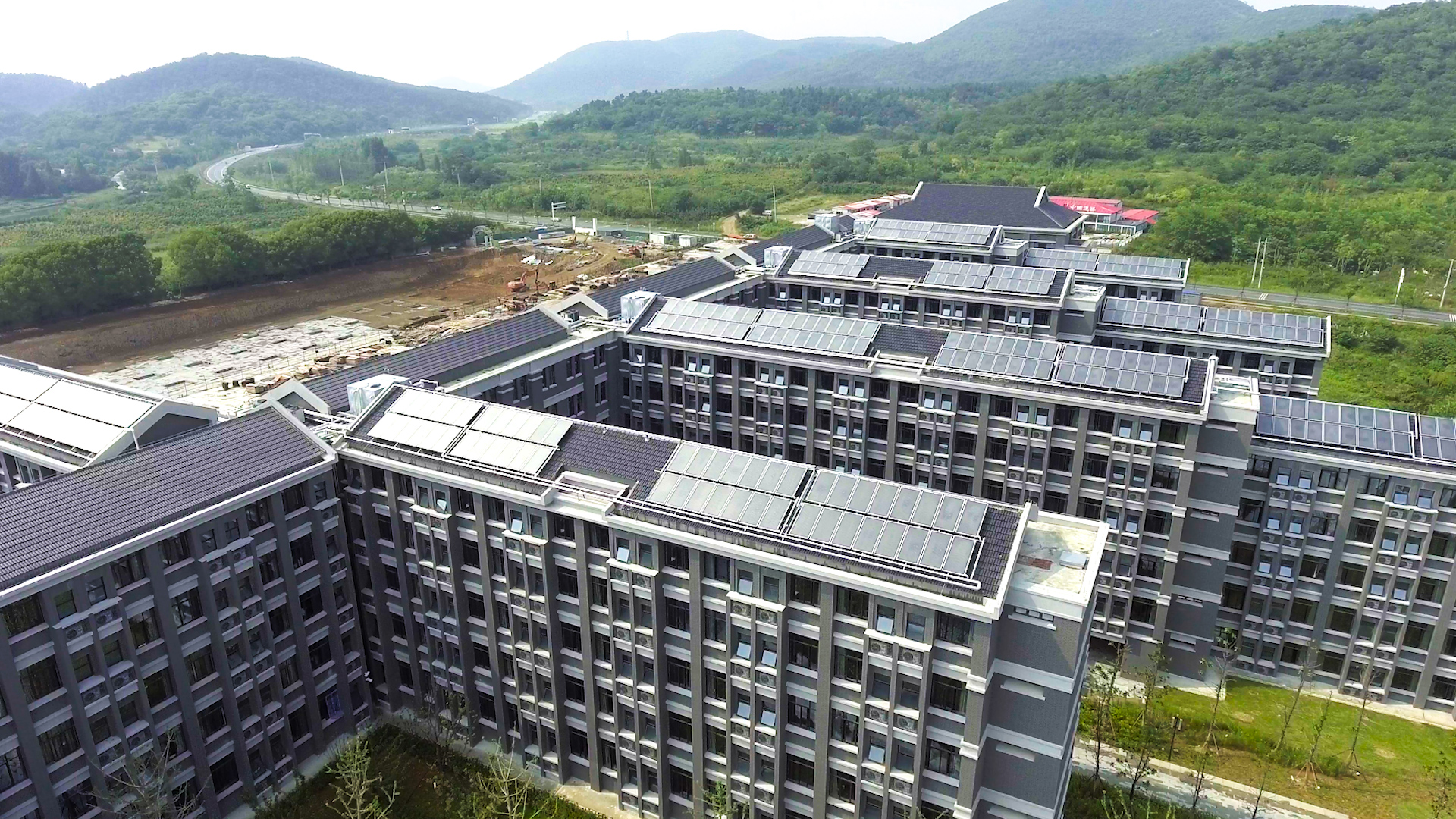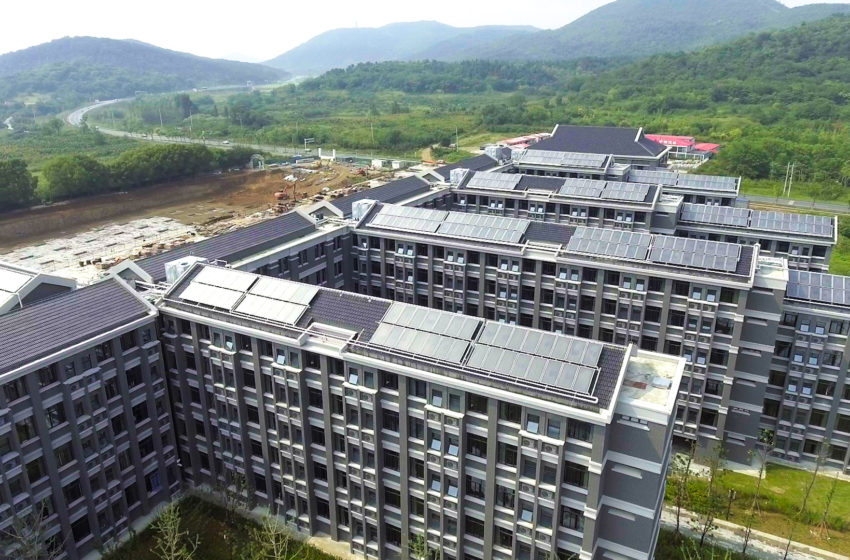 Demand for central solar water heating peaks in 2019
Linuo Paradigma, one of the largest solar thermal manufacturers in China, had very good sales of large hot water systems nationally last year. Together with local businesses, its engineering team for the national market designed and supervised as many as six projects that focused on providing solar hot water from a central source and involved the installation of over 10,000 m2 (7 MWth). It also reported the completion of another 21 projects with central collector fields ranging from 5,000 m2 to 10,000 m2 (3.5 to 7 MWth). Photos of the systems have not been available yet, so that the images in this article show only smaller installations, such as the above 848 m2 flat plate system put up on the roof of a school.
Photos: Linuo Paradigma
Based on a threshold of 500 m2 of collector area, used by EU statisticians to classify projects as large, Linuo Paradigma completed even more large projects in China in 2019, 124 to be precise, and put up 393,000 m2 (275 MWth) altogether. "Sales of residential and public-sector systems with 500 ㎡ or more fluctuate significantly from year to year," explained Erica Shan, Regional Sales Director at Linuo Paradigma. In 2018, they came to 224,600 m2, less than 60 % of what the company sold in 2019. Still, 2018 was a good year for sales to the construction industry. Year-on-year growth between 2017 and 2018 was 34 %, thanks to a large number of balcony systems installed in 2018.
"The market fluctuates because builders can choose either a large solar field type or balcony units for a new high-rise or a neighbourhood in areas where building regulations stipulate the installation of solar thermal systems," she explained, adding that flat plate collectors for balcony and central hot water installations are growing in popularity. Currently, 70 % of all systems sold by Linuo Paradigma include vacuum tubes and 30 % flat plate collectors, according to Shan.
| | | | |
| --- | --- | --- | --- |
| SWH site (name of city or town and province) | Total area of solar fields for central hot water supply (m2) | Commissioned in (month) | Type of building |
| Linyi, Shandong | 13,890 | October | Block of flats |
| Nanchang, Jiangxi | 13,350 | August | Block of flats |
| Hangzhou, Zhejiang | 12,915 | October | Block of flats |
| Zaozhuang, Shandong | 12,290 | September | Block of flats |
| Shanghai | 11,905 | September | Office building |
| Hangzhou, Zhejiang | 10,400 | July | School |
This table shows the six large projects for which Linuo Paradigma installed more than 10,000 m2 of collector area in 2019. The collectors are used to provide hot water in different types of buildings.
Source: Linuo Paradigma

This image shows a residential high-rise building in Shanghai. Its roof was covered with 1,388 m2 of vacuum tube collectors in 2019.
Most solar collector systems used for centralised hot water preparation were put up on multi-family buildings, although a growing number of hospitals were placing orders as well. Throughout last year, Linuo Paradigma installed solar fields totalling 17,136 ㎡ for this customer group (one of these can be seen in the following photo).
However, all of the 124 projects finished in 2019 provided neither space heating nor solar cooling, Shan confirmed: "Most of the space heating systems we install these days are heat pumps. They are being promoted in rural areas via a
green heat policy
that aims to displace coal boilers used for electricity generation." Shan also said that not all of the above-mentioned systems were installed under the Linuo Paradigma brand, as the company also produces equipment marketed by other businesses under their own brands.
This photo shows the 860 m2 system that was installed on a hospital in Wuhan in 2019.
Besides its focus on the Chinese engineering market, the Linuo Group also sells products globally via its subsidiary Linuo Ritter International. For example, in 2019, it partnered with companies based in Palestine and Australia to put up commercial solar hot water systems (see the photos below). Those projects used U-pipe CPC vacuum tube collectors, developed as part of the Linuo and Ritter Group's Sino-German joint-venture efforts.

These images depict two solar projects implemented outside China last year. The photo on the left shows the 252 m2 solar thermal system put up at the University of Melbourne, the one on the right the 392 m2 system at Al Makassed Hospital in East Jerusalem. The second project was completed in partnership with Palestine-based Shamsuna.
Photos: Linuo Ritter International
Organisations mentioned in this article: