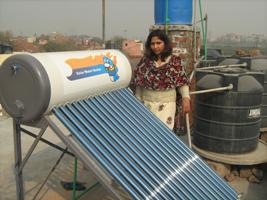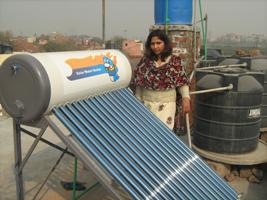 Delhi: Solar Water Heaters Save Electricity
Reducing the burden of the electricity load: a solar water heater in the city of Delhi. Photo: Koto Trade & Service
The "Go Solar Go Green" campaign of the Delhi government shows its first promising results. More than 382 hot water systems have been installed since the implementation of the directive on the 11th of November 2007. They range from 100 to 500 litres of hot water per day (status February 2009). The Delhi Transco Ltd. (DTL), the State Transmission utility for the National Capital Territory of Delhi with 17 million inhabitants, gathers the statistical figures to show how many systems were provided from which manufacturer or supplier (see pie chart below).
Number of newly installed solar thermal systems in Delhi per system supplier or manufacturer. The company Koto Trade & Services is a trading company that imports vacuum tube collectors from China and is based in Delhi (total number of systems: 382)
Source: Delhi Transco Ltd. (DTL)
The directive includes two measures to accelerate the growth of the solar thermal market in the region: A solar bye-law and an incentive programme. The city's government made using solar water heaters mandatory in all government hospitals, hotels and jails and also in all residential buildings built on an area of 500 m2 or more.
Based on a survey, the estimated total electrical load within the residential sector in Delhi amounts to around 7 GW, with an average connected load of 4.8 kW. Together, water heating and cooling account for nearly 51% of it. The city government is convinced that solar water heaters will play a crucial role in reducing peak demands.
This is why the city's cabinet implemented an incentive programme in November 2007. The cabinet's decision no.1309 from the 20th of November 2007 defined a rebate scheme that includes subsidies of Indian Rupee (INR) 6,000 for every solar water heating system producing 100 litres of hot water per day and up to a maximum amount of INR 60,000 for a solar water heating system with an output of 1,000 litres/day. Beneficiaries are non-commercial institutions like colleges, hostels and old-age homes or charitable as well as religious institutions. See the attached document for details.
More information:
http://www.delhitransco.gov.in/EnergyEfficiency/listvendorsofSWHS09-07-2008.pdf
http://www.delhitransco.gov.in/EnergyEfficiency/Public_notices.htm
Contact:
Delhi Transco Ltd
Energy Efficiency & Renewable Energy Management
Satish Sabharwal
Executive Officer
Phone: +91-11-2852 5038/ 5875
http://www.delhitransco.gov.in/EnergyEfficiency/EnergyEfficiency.html