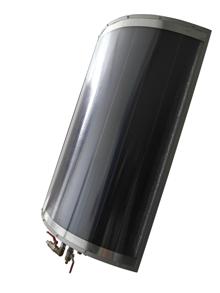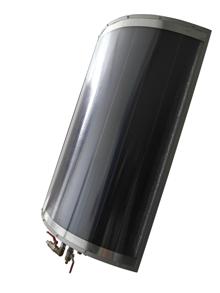 Czech Republic: Integrated Tank Collector Targets New Market Segments
Czech vacuum tube collector manufacturer Vermos has developed a completely new collector model with integrated tank which combines easy usability with a rather low price. The new solar system is available in two sizes: 35 litres (SAK 30) for ground installations and 50 litres (SAK 50) for roof mounting (see figure). According to Jiří Vlk, Managing Director of Vermos, the new development is a response to the high market pressure on the Czech market after the subsidy stop in 2010. A lot of smaller suppliers closed down their solar thermal businesses in 2011 and 2012, among them Solarex, Láf Nerez s.r.o., Stroírny Bohdalice a.s. and Ekosolaris a.s.
Figure: Vermos
"The new product is our attempt at resolving the currently difficult market situation in the Czech Republic for solar thermal water heaters," explains Vlk. "We aim for the segment of relatively high efficiency and very low prices, which will make the investment pay back over a short time. In our opinion, this is what customers want after the subsidies' end." The SAK 35 and SAK 50 have been on the market since early summer 2012 after being tested for several months. Vermos has been manufacturing, offering and installing vacuum tube collector systems with single-glass heat pipes since 1997.
The company is aware that the new product will cover only the needs of a small market segment, including recreation facilities, cottages or even small households. It can be mounted onto the roof, façade or set up on the ground. Southern Europe with its long sunny summers, however, could become another interesting target market for the new product.
The casing of the SAK 30 and SAK 50 consists of a bended polycarbonate sheet. Underneath, there is a similarly bended absorber plate made of copper with a selective coating. The 35 (SAK 35) or 50 litre (SAK 50) stainless steel tank is positioned in the back of the casing and linked directly to the solar circuit without heat exchanger.
Since SAK collectors can run on simple water pressure off the public water grid, it does not need a pump or a regulator and remains independent of any electrical supply. It is also possible to connect several SAKs to form one single system. According to the manufacturer, the SAK unit can heat double its tank volume during a sunny day. This means that in the Czech's about 180-day summer season, the SAK 50 could heat up to 14,500 litres of water for free.
The price ranges between Czech Koruna CZK 12,500 (EUR 490) and 14,500 (EUR 570) without installation or VAT. The customers can assemble and mount the collector themselves. According to Vlk, the payback period ranges between 4 to 6 years – without the need for subsidies.

More information:
http://www.vermos.cz
This text was written by Vladislava Adamenkova, a Czech student of international business studies in Vienna, Austria.