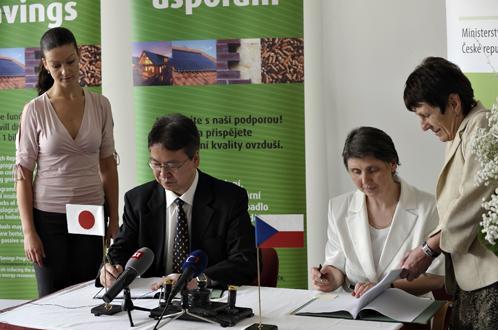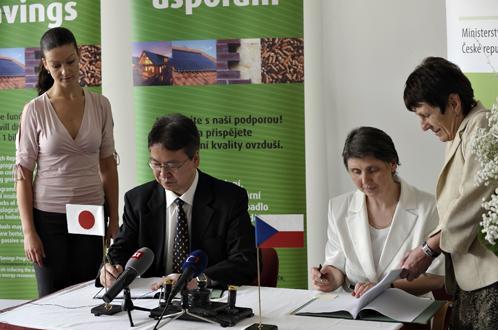 Czech Republic: Emission Trading Revenues extend Incentive Programme
Signed in July by Rut Bizkova, the Czech Republic's Environment Minister, and Yasuhiro Shimizu, Japanese Executive Director of the New Energy and Industrial Technology Development Organization, the new supplement to an emission trading contract leads to improvements in the Green Savings Programme.
Photo: Zelena Usporam
The recently signed supplement stipulates the sale of a large, yet undisclosed, quantity of Assigned Amount Units (AAUs) to the Japanese side and requires Czech authorities to spend the gained capital for CO2 saving measures. The new agreement is therefore a great improvement with respect to the Green Savings programme, which receives all of its funds out of emission trading revenues. Besides solar thermal systems, the scheme subsidizes insulation measures, the implementation of passive energy standards in construction projects, low-emission burners with biomass as their energy source and efficiency-improved heat pumps.
Between March 2009, when the programme was launched, and May 2010, the Czech Republic earned approximately Czech Koruny (CZK) 20 billion (EUR 864 million) through the sale of AAU units. Until June 2010, authorities received 33,000 applications for solar thermal systems requesting funds of, in total, CZK 9 billion (EUR 353 million). So far, more than 23,000 applications have been approved, which translates into a granted subsidy amount of CZK 5 billion. Only about 7% of these granted subsidies, however, have already been made available to the applicants by now, because the entire subsidy is paid out only if the respective project has been completed.
There are approximately 25,000 AAU left to sell. The revenue expected until 2012 is 25 billion CZK (EUR 981 million); because the price of an AAU is not fixed, it may be more or less than the original estimate. Nevertheless, such a generous budget will allow the government to extend the subsidy programme it actually intended to halt several times during the first half of 2010. Residential solar water systems are still rebated with CZK 55,000 (EUR 2,160) and combi systems, which supply energy for hot water generation and space heating, are subsidized with CZK 80,000 (EUR 3,140) (further details in the table below).
The most important change in the new regulations from July 2010 concerns the public sector: Cities, towns, villages, state-owned companies and churches are now all able to receive subsidies from the programme in order to implement energy-saving measures. "We see this step as a significant help to the country's municipalities. And this at a time when those municipalities don't have enough money because of the critical drop in tax revenue after the economic crisis," Bizkova, the Czech Minister of Environment, said. The total budget for public buildings is limited to CZK 6 billion. Since 90 % of the energy-saving measures (which includes solar thermal systems) have their maximum incentive set at CZK 200 million per application (EUR 7.8 million), it is most likely the available budget will be exceeded in a short period of time. Due to the large budget reserved in favour of the public sector, the industry fears that the residential programme will also run out of money before 31 December 2012.
More information:
http://www.zelenausporam.cz
The text was written by Vladislava Adamenkova, a Czech student of international business studies in Vienna.
Country / region

Czech Republic

Name of programme

Zelena Usporam (Green Savings)

Type of incentive

Subsidy

Eligible technologies

Solar thermal systems, biomass boilers and heat pumps, insolation

Applicable sectors

Primarily residential home owners, who might also have rented their house to somebody. For a short period between 19 June and 31 August 2010 public institutions like cities, towns, villages and regions can apply for a subsidy

Amount

Residential hot water systems: Czech Korun (CZK) 55,000
residential combi systems, supplying domestic hot water and space heating: CZK 80,000
Application from the public sector: 90 % of the investment costs

Maximum incentive

Fixed subsidies for residential systems: CZK 55,000 and 80,000 for solar thermal systems

There is an additional bonus if a home owner combined the installation of a solar system with another environmentally friendly way of heating water or the household itself. Applications from the public sector up to a max. of CZK 200 million.

Requirements for system

The solar system must come from a supplier, which registered with the programme (you will find a list of registered suppliers under the following link)

Systems are approved for the subsidy if they reach 350 kWh/m2 for hot water systems or 280KWh/m2 for combi systems

Requirements for installation

use of certified components for the system
electrical protection against freezing temperatures
consumer obligation to use the installed solar system for at least 15 years

Finance provider

Ministry of the Environment

Total funds

CZK 20 billion from emission trading spent between March 2009 and May 2010. CZK 25 billion ( approx. EUR 1 billion) for all three technologies: solar thermal systems, biomass boilers and heat pumps for the period between June 2010 and December 2012

Funding source

Emission trading under the Kyoto Protocol

Effective date

March 2009, new requirements since 19th of June 2010

Expiration date

The programme stopped in October 2010 and the date of the relaunch is unclear

Website

http://www.zelenausporam.cz/ http://www.opzp.cz http://www.sfzp.cz/

Last review of this tabloid

July 2011

Contact

Ministry of the Environment
Phone: 00420/800 260 500
Email: dotazy@sfzp.cz
http://www.zelenausporam.cz/