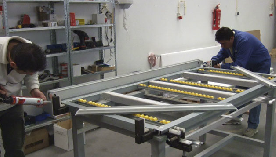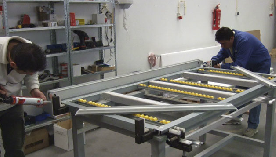 Customers Appreciate 'Made in Portugal'
The Portuguese government is campaigning for products 'Made in Portugal', in order to increase domestic demand. Soldirecto followed the call and started mass-producing solar thermal collectors this year. The company, which was founded two and a half years ago, is based in Vendas Novas near Lisbon, the capital of Portugal. The five-person team purchases laser-welded absorbers from Germany and assembles the collectors in a local factory.
Photo: Soldirecto
"With around 50 different brands, the solar thermal market in Portugal is a very competitive one, but imported systems have the biggest share," Patricia Marques, Marketing Manager of Soldirecto, explains. "'Made in Portugal' is appealing to costumers and we have gotten positive feedback from sector players." A market survey in 2010 identified 55 brands, of which only 14 were from Portugal.
Soldirecto is about to build up a distribution network of regional resellers. They can either purchase collectors or complete systems. The minimum collector number for one order is ten. "An order of 40 collectors and more will be delivered free of charge to any location in Portugal," says Marques. This is a great advantage to resellers compared to importing collectors. Usually, imports have to be bought in larger quantities per order. Because the solar thermal market is much lower than in the boom year of 2009, smaller orders are more convenient today. The national solar industry association Apisolar expects a market volume of 82,631 m² in 2012, which is 35 % below the previous year.
Soldirecto was founded by three entrepreneurs who have partly been already active in other companies of the heating segment. The company is producing around 300 collectors per month at the moment and is looking for international partners to start exporting. First contacts have been acquired in Angola, a Portuguese-speaking country in southern Africa. Soldirecto has been involved there in the negotiations with the Angolan government to install solar water heaters at social housing projects.
More information:
http://www.apisolar.pt/
http://www.soldirecto.pt