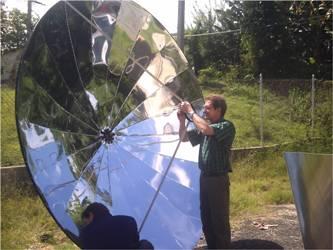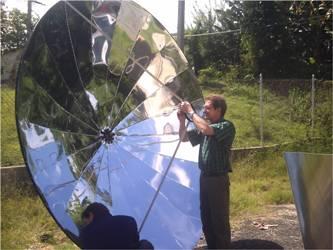 Cuba: 15 Years GERA Solar Thermal R&D and Testing
The Cuban Applied Renewable Energy Group, GERA, can look back at 15 years of successful research and development projects. Together with the Faculty of Mechanical Engineering at the Orient University of Santiago de Cuba, GERA has formed a team of specialists from several disciplines, including renewable energy specialists, physicists, mechanical and automation engineers, computer specialists, and architects. The group has been running a solar laboratory and a student exchange programmes with European Universities. The photo shows Jorge Luis Bonzon Henriques, Director of GERA, with one of the solar dishes for solar cooling systems designed by the GERA team.
Photo: Gera
The team is operating a solar lab with a 2,000 m2 outdoor testing field to carry out research and development projects in several solar application areas by using different system designs. Bus-based measurement equipment of Western European standard is operating and controlling the actual indoor and outdoor settings. The completely automated measurement equipment allows GERA to provide metering data online, including real-time estimates of tests currently running.
The solar laboratory makes it possible for the GERA group to evaluate different types of solar thermal applications, PV modules and solar equipment. GERA members also offer technical advice on solar energy project.
Over the last fifteen years, GERA has completed several development projects, such as solar cooking systems, or process heat applications with dish or parabolic systems, and has evaluated different solar dryers for fruits, plants, beans and vegetables. Most of these projects were initiatives of companies or joint projects together with universities in Europe or Latin America. A brief list of the finished projects can be found below:
Designing and setting up solar cookers without energy storage (cooperation with the Federation of Cuban Women, FMC, Cuba, and MEDAS, Canadian association for the promotion of solar cookers)
Designing and setting up solar cookers with energy storage (cooperation with FMC, Cuba, and the Greek association Medas specialised on women in renewables)
Automated supervising of wood dryers based on solar thermal energy by using low-cost sensors, as well as developing a solar dryer for bamboo. Both projects were carried out in cooperation with the Physical Properties and Advanced Technologies in Agro-Food Laboratory, LPF-TAG, of the Technical University of Madrid, Spain, and the sensor technology lab of the National Center for Metallurgy, CENIM-CSIC, Madrid, Spain.
Planning and setting up solar heating systems:
Las Américas Hotel, Santiago de Cuba, 70 m2 of collector area
Center for the Study of the Cuban Economy, CIMEX, Santiago de Cuba, 30 m2 of collector area
Bucanero Hotel, Santiago de Cuba, 230 m2 of collector area
Antonio Maceo Airport, Santiago de Cuba, 20 m2 of collector area
Los Abelitos nursery school, 20 m2 of collector area
GERA is also operating a meteorological station in Santiago de Cuba. The station, which was set up in a joint effort with Aachen University, Germany, has been designed to be self-sufficient, drawing its own current supply from photovoltaic modules and a back-up system. Since 1998, it has been recording all relevant meteorological data, such as global solar radiation, wind speed, wind direction, ambient temperature, relative humidity and atmospheric pressure. The station, which has been damaged by hurricanes each year since its installation, is located in the world's solar belt (20º 1.8162 N and 75º 48.5267 W).
Over the last years, several students from Germany, Austria, Canada, the Caribbean and African nations have worked at GERA. In addition to a theoretical education, Gera has also trained them in solar prototype design and how to assess this design under real-life conditions. Several European Universities have a student exchange programme with the Orient University of Santiago de Cuba.
For more information about possible application areas or about company references, please contact the following persons:
Lic. PA. Jorge Luis Bonzon Henriques, Director of GERA, e-mail: bonzon04@yahoo.es
Ing. PA. Orlando Escalona Costa, Researcher at GERA, e-mail: orlandoesc@yahoo.es
World Wide Web: http://www.fim.uo.edu.cu/gera
This article was written by Christoph Zipko, R&D Project Coordinator at an Austrian collector manufacturer and former technical co-worker in setting up the solar laboratory at GERA.