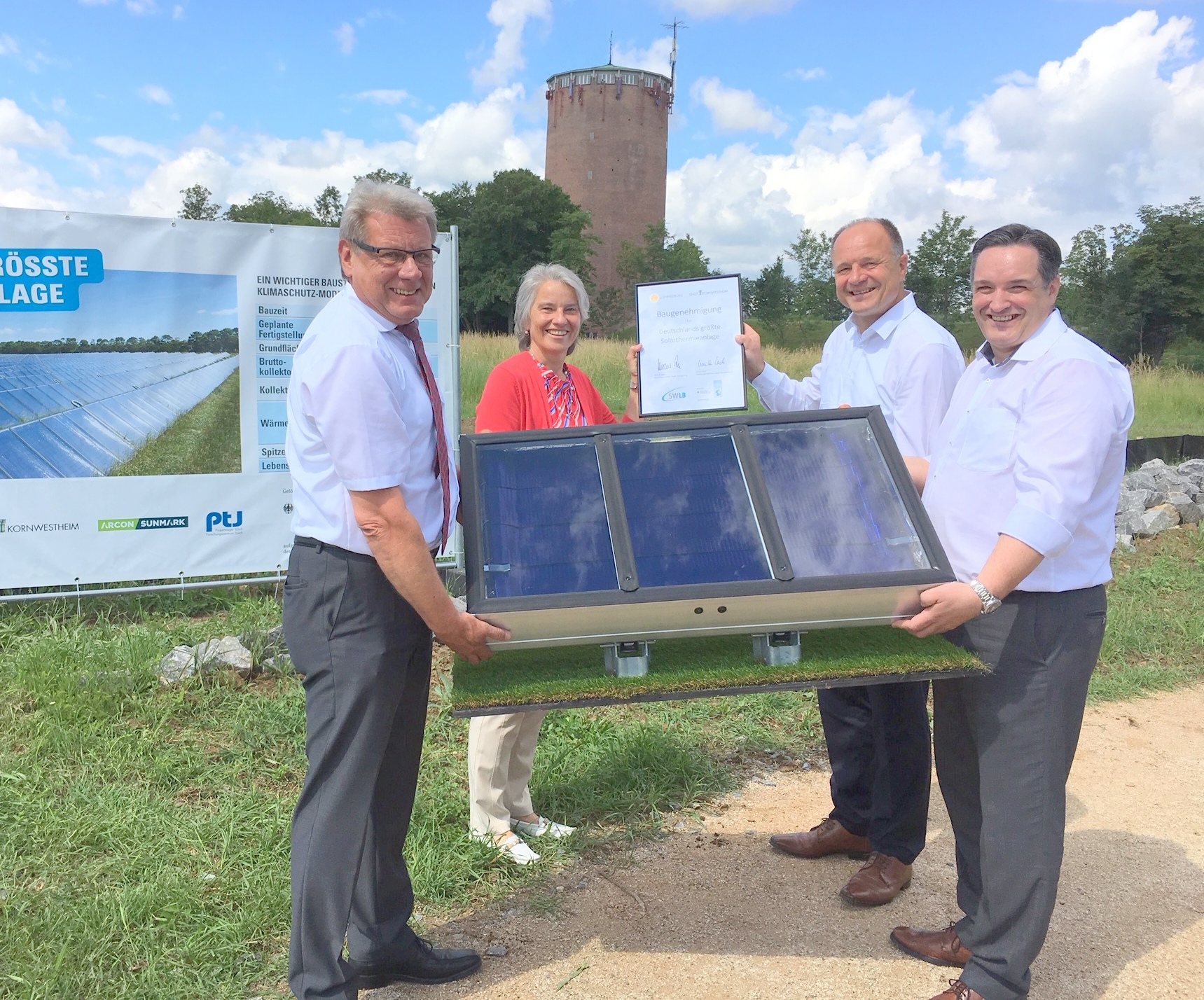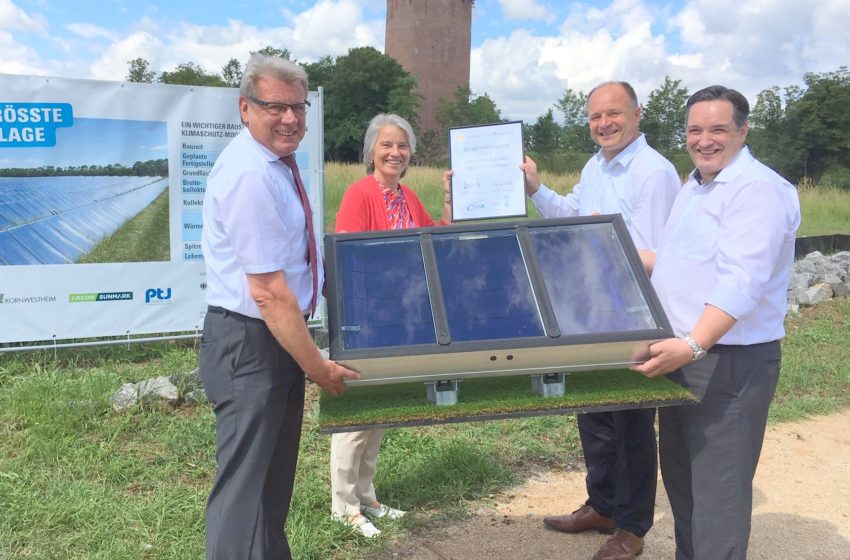 Construction starts on Germany's largest SDH plant
On 21 June, local utility Stadtwerke Ludwigsburg-Kornwestheim (SWLB) was given the go-ahead to put up Germany's largest solar thermal field, a flat plate collector installation measuring 14,800 m² (9 MWth). Once it comes online, presumably by the end of this year, it will outshine today's largest SDH system, a 5.8 MWth plant started up in August 2016. In the photo, the two managing directors of SWLB, Bodo Skaletz and Christian Schneider (first from left and first from right, respectively), are holding up a collector panel, while the mayors of Kornwestheim and Ludwigsburg, Ursula Keck and Werner Spec, are standing behind them. All four have been enthusiastic about the start of construction. The system, as well as the enlarged DH grid, is scheduled for completion by May 2020.
Photo: SWLB
SWLB spent three years planning the solar system, which is part of a larger modernisation project. In that time, the energy supplier managed to combine the plots on which to build the solar field despite Ludwigsburg and Kornwestheim having different rules on energy generation facilities. For example, it took advantage of Section 35 of Germany's BauGB building regulations, which include exceptions for outdoor structures, such as heat supply systems.
Solar thermal capacity
14,800 m² or 9 MWth
Collector manufacturer
Arcon-Sunmark, Denmark
Storage tank volume
2,000 m³
Tank manufacturer
Kremsmüller Industrieanlagenbau, Austria
SDH investment, including DH upgrade
EUR 13 million
Government funding
EUR 10 million
Annual solar yield
5,500 MWh
Specific solar yield
372 kWh/m²a
Length of new district heating pipes to connect four existing DH networks
5 km
Feed line / return line temperature of enlarged DH network
Winter: 110/90 °C supply / 50 °C return

Sommer 70 °C supply / 50 °C return

Boilers in heating centre
Gas boilers
Key figures of SDH plant in Ludwigsburg
Source: SWLB
Storage tank under construction
Solar energy will be led to storage tank, which will be 20 m tall and 14 m in diameter and will have a volume of 2,000 m³. As early as January, Austrian-based Kremsmüller Industrieanlagenbau made the components for the steel unit, which will be welded on-site and is being put up next to a wood-fired cogeneration plant run by SWLB in Ludwigsburg. The groundwork was completed in April, when 24 beams, each 13 m long and 90 cm wide, had been driven into the ground and filled with concrete. After the foundation slab was also reinforced with concrete in early June, the business began putting up the tank. It will be insulated in late September, so that it can be filled with water by mid-October. SWLB is planning to commission the entire storage facility in early December.
Illustration of the 2,000 m³ storage tank that is to be put up next to the heating centre
Source: SWLB
Utility merges heat networks
During the project, SWLB will connect three district heating islands to Ludwigsburg's pipeline system. "Expanding the district heating network, which provides heat for much of the city based on primarily renewable sources, to those parts still powered entirely by fossil fuels is crucial to raising the quality of heat throughout these newly connected networks," explained Bodo Skaletz, Managing Director of SWLB. The sites would form a larger network, so that the size of boilers can be reduced during plant upgrades. "In addition to saving on fossil fuel, this also gives us an economic advantage," said Skaletz. SWLB is laying about 5 km of pipes for the new, larger system. This concept caught the attention of Germany's environment ministry, so that SWLB has received a grant of nearly EUR 10 million under the Municipal Climate Change Showcase programme – enough to cover two-thirds of the investment in the project, which will cost around EUR 13 million.
More urban SDH systems in Germany
Even though the solar thermal field in Ludwigsburg-Kornwestheim will be the largest in Germany, it won't be the only new one this year, experts say. For example, the German-based Steinbeis Institute Solites expects another 10 MW
th
SDH plant to be added soon. And in the past two years, so-called
solar-bio energy villages
pioneered the use of SDH in Germany. However, Dirk Mangold, Managing Director of Solites, said most new SDH plants would probably be connected to large urban district heating systems in the coming years: "Clearly, these sorts of projects are becoming ever more popular." He believes that until 2023, systems similar to the one in Ludwigsburg could make up three quarters of new SDH capacity additions.
Organisations mentioned in this article: