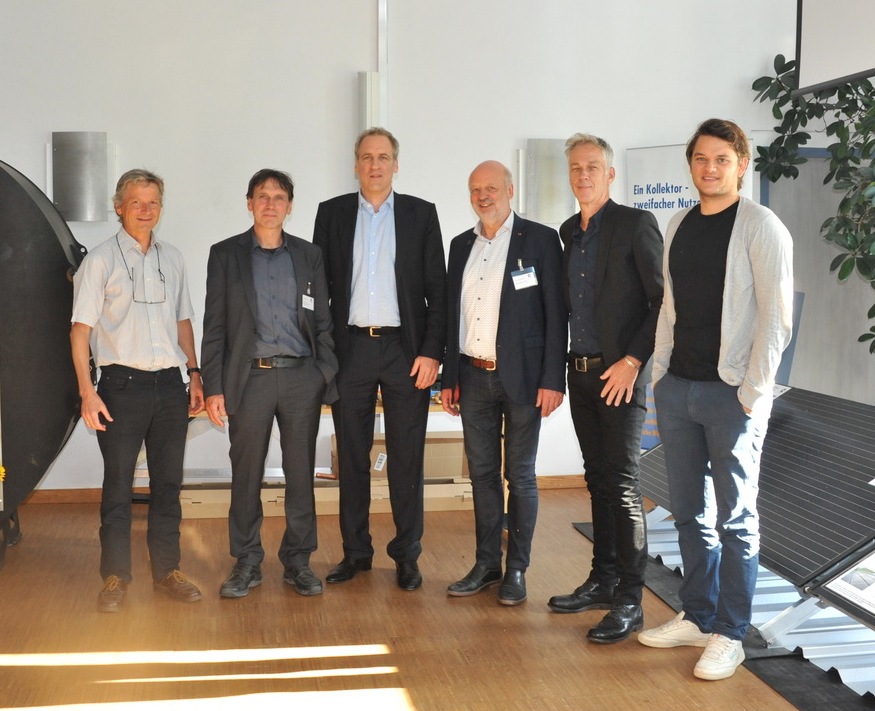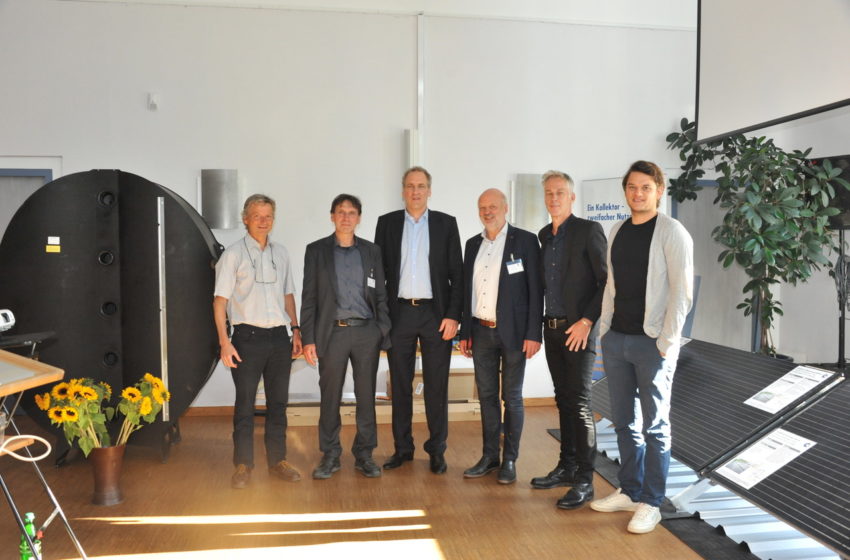 Consolar marks 25 years of efficient solar thermal solutions
On 20 September, German-based solar system supplier Consolar celebrated its 25th anniversary in Frankfurt, with a special guest in attendance to mark the occasion: Hans Josef Fell, President of the Energy Watch Group, a global network of scientists and parliamentarians. The business's founders, Ulrich Leibfried, Hans Stork and Andreas Siegemund, who are still running the company, also used the opportunity to present their PV-thermal panel called Solink, a highly efficient source of energy for heat pumps. In the photo, Leibfried, Stork, Siegemund and Fell (from left) can be seen standing with Project Engineer Frank van Maanen and Founding Director Cees Mager (first and second from right) of Dutch-based Triple Solar, Consolar's technology and sales partner for Solink.
Photo: Consolar
Consolar is a company truly focused on innovation. "We are proud of the many awards and prizes we have received over the last years," said Leibfried. As recently as 2017, the business won the Baden-Württemberg state's Green Technology award for its Solink collector.
Solink is the result of a partnership with Dutch-based Triple Solar. Development took four years and was supported financially by Germany's DBU environment foundation. Close to 120 of these systems, with round about 2,200 PVT elements, are now running in Europe. The functions available during day and night cycles have been explained in a
YouTube video
.
Solink collectors supply hot water to brine heat pumps and electricity to converters or batteries.
Photo: Consolar
The collector consists of two parts. The component at the top is a 2 m² PV panel made by Slovenian-based Bisol. The part below is an air-to-water heat exchanger, which has a surface of 20 m² and is glued to the edges of that panel. Thanks to natural convection, ventilators are not required to circulate air between the back of a unit and the roof of the building.
"Solink collectors have been optimised for use in brine heat pump systems to avoid boreholes, which has really helped to cut the price of these heating systems," said Leibfried. The waste heat from the installed PV panels and the warm air surrounding an installation are used to supply the collector with thermal energy. Since temperatures of about 20 °C are enough to run a heat pump, there is no need for insulating the back of the thermal absorber.
In recent years, Consolar has expanded its service portfolio. It now includes offers aimed at property developers, utilities or planning offices wanting to install solar heat systems in multi-family buildings. In 2017, the company began delivering vacuum tube collectors for flat roofs and facades, as well as modular buffer tanks. Consolar's 12-people team is based in Frankfurt and Lörrach (Southern Germany) and sells solar heat systems in Germany and 10 other countries in Europe. In all, it has installed units for over 40,000 customers.
Organisations mentioned in this article: