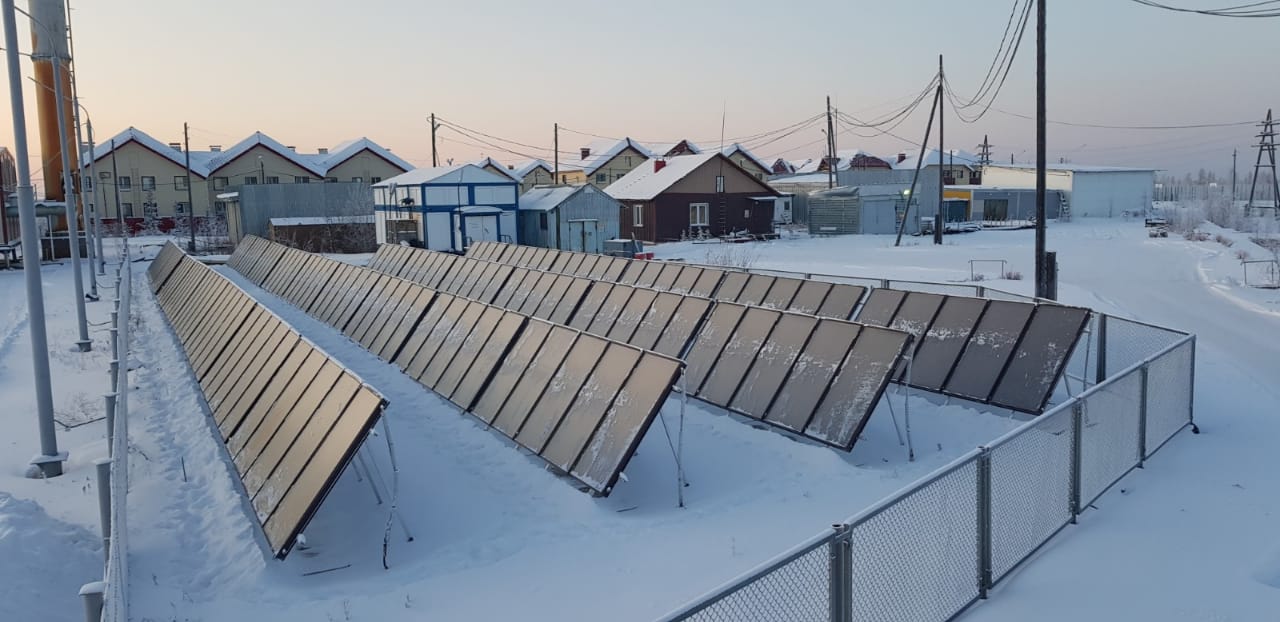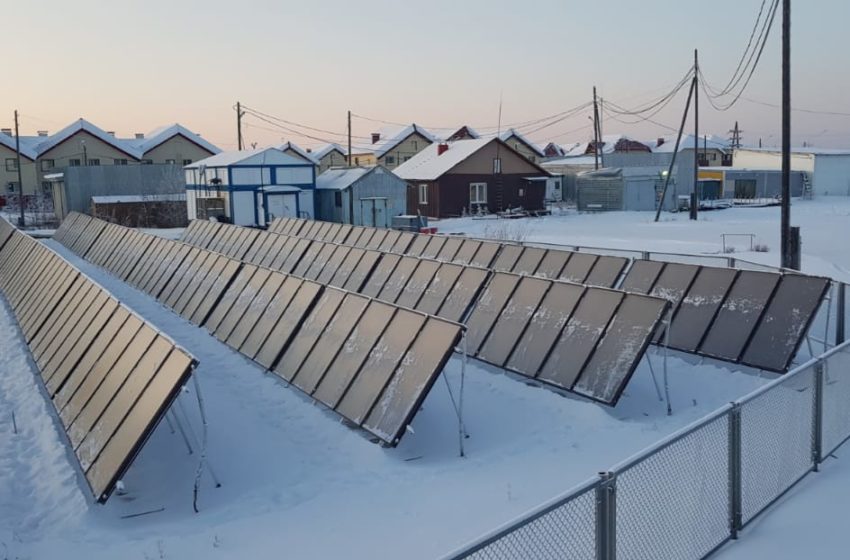 Commercial installations in Russia
Alrosa, a Russian-based group of companies that specialise in mining, processing and selling diamonds, is pleased with the performance of its solar field, which began supplying heat to shift workers' homes at a factory in Nyurba three years ago. The system is located in the northern Russian region of Yakutia, which is known for its extreme climate conditions and the lowest temperatures in the Northern hemisphere. The collectors were delivered by New Polus, one of Russia's few solar collector manufacturers. This Moscow-based business, which sells its products under the brand name ЯSolar, has completed several commercial solar heat projects in recent years.
Photo: Alrosa
Even though average temperatures in Yakazia are low, the total sunshine duration, estimated at 1,700 to 2,000 hours, is comparable to that in Krasnodar in southern Russia, said Yana Yushina, Director of Corporate Affairs at Alrosa.

According to a news article published on
http://ysia.ru/
on 28 November 2019, the solar field is made up of 150 units with a total collector area of 300 m
2
. Including installation, it cost Russian Rouble (RUB) 4.5 million (USD 70,000), which corresponds to specific costs of 233 USD/m
2
. The solar heat displaces expensive oil imports, which means the investment will pay off in as little as five years, said Yushina.
In the above article, Alrosa is quoted as saying that "the use of solar technology in our region is still rare. This is because it requires much investment and there is a lack of experience in using the technology. The solar thermal system installed at one of our facilities was a demonstration project and a successful one at that."
New Polus offers a wide variety of solar thermal systems, be they small thermosiphon units or larger fields consisting of several hundred collectors. The company's website includes a searchable database of references, which range from small residential units built 10 years ago, as well as many residential solar hot water systems from 5 m2 to 20 m2, to a notable number of commercial installations in recent years.
Photos from the database created by New Polus, Moscow:
Left: In 2019, 160 m2 of collector area came online to supply hot water to a logistics complex in Rostov-on-don, a town on the coast of the Black Sea.
Middle: In 2018, a total of 240 m2 of collector area was put up at a children´s holiday camp to heat water for up to 900 guests visiting the Black Sea coast.
Right: This collector field was installed in 2016 at an industry facility in the Nakyn district of Yakutia.
This article was written by Eugene Gerden, a Moscow-based freelance journalist specialising in renewable energies.