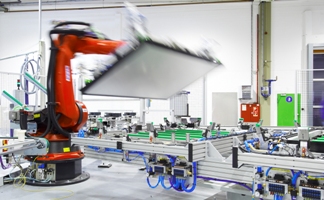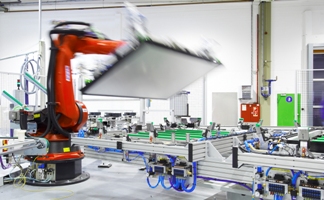 automated collector factory
Collector Factory: All-in-One Solution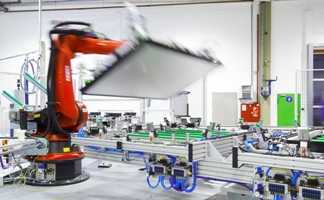 Quick, precise, tireless: Robots perform most of the collector manufacturing at the German heating systems manufacturer Vaillant. Photo: Vaillant

"We have already worked out detailed concepts for an almost completely automated collector production", says Christian Goritschnig, managing director of the Gutmann AG, based in Liechtenstein. His aim: A factory producing a collector during a fully automated process, starting with the absorber coil and ending with the collector assembly. "80 % of the process steps you need for manufacturing a collector are still performed manually. They could be automated and therefore reduce costs." Since last year, Goritschnig has partnered with the automation specialist FIX Maschinenbau GmbH from Korb, Germany, a member of the UTZ Group. FIX builds the machines and Goritschnig designs the technology behind them. A bold new strategy in the solar thermal sector. "As far as automation is concerned, the solar thermal energy industry is still in its infancy", says Goritschnig.
Making use of the technical knowledge from automation specialists in planning module production is no longer unusual for the photovoltaic sector, but it is new ground for the solar thermal energy industry. An experience shared by the robot manufacturer and system integrator Reis GmbH & Co. KG Maschinenfabrik in Obernburg near Frankfurt, Germany. "The solar thermal energy companies are still very tentative", says Steffen Günther, sales manager at Reis. Nevertheless, he realised the first project within the solar thermal industry last year. Vaillant collaborated closely with Reis when it devised a concept for their new production line at Gelsenkirchen. Reis not only assists its customers in integrating standard processes, but also helps them with the technological design of individual production processes. "We see ourselves as system integrators", says Günther. The company can determine cycle times and loads via simulations and organise the production stations in a way that they provide for an optimum workflow. Reis can test new applications and new uses for robots via its in-house technology. It can thus provide tailor-made solutions in cooperation with its customers.
The basis is already there, not just at Reis. Kuka Systems GmbH in Augsburg, Germany, an affiliate of Kuka Roboter GmbH, is able to offer entire solar collector production lines to its customers. The company can meet the demand of various business sizes, with production capacities ranging from 75,000 collectors per year at a cycle time of 140 seconds, to assembly lines producing 150,000 collectors per year at a manufacturing speed of 71 seconds. It developed the corresponding laser welding and gluing processes in its own laboratories. Kuka had already delivered single robots to the solar thermal energy industry for a number of years, but has only begun to supply completely integrated production lines since the beginning of this year (see attached plan).
"We have a number of requests and the first pilot projects", says Albert Vontz, the solar division manager. These, however, are subject to confidentiality agreements. The first Kuka production line will probably open in summer 2009.
More information:
Gutmann AG: http://www.go-innovate.com
Fix Maschinenbau: http://www.fix-utz.de
Reis: http://www.reisrobotics.de
Kuka Roboter GmbH: http://www.kuka-robotics.com