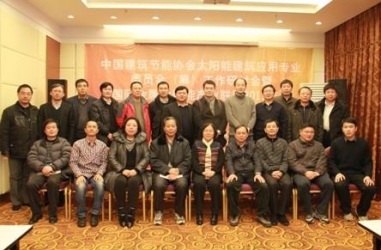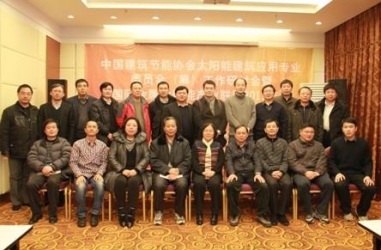 China: Workshop on Building-integrated Solar Energy
The International Metal Solar Industrial Alliance (IMSIA) and the newly founded China Association of Building Energy Efficiency (BISE) have started off their official cooperation at the beginning of March by organising a first shared workshop on Building-integrated Solar Energy in Chengdu, Sichuan province. The objective of the new initiative is to increase the share of energy-efficient buildings and the use of renewable energies in the construction sector.
Photo: IMSIA
Representatives from more than 20 companies attended the meeting, among them: Yang Xiwei, Deputy Secretary-General of the China Association of Building Energy Efficiency, Liang Junqiang, Vice Director of the Ministry of Housing and Urban-Rural Development (MOHURT) and initiator of BISE, and James Li, Project Coordinator at the International Copper Association's South East Asia office, which co-founded the IMSIA.
At the beginning of the workshop, James Li confirmed that the IMSIA would offer to fully support BISE's further development: "We will help with the development of members, industrial research, international communication and other aspects." The IMSIA is a network of solar thermal manufacturers, building designers and research institutions, which aims to promote high-quality, pressurised metal solar water heating systems. The numerous activities of IMSIA, including surveys, trainings, a news portal and architecture awards could receive a stronger public awareness through the cooperation with a state body such as BISE.
BISE, which was founded by MOHURT, will be registered as an association affiliated with the ministry in the near future. It is expected to manage industrial R&D projects and channel the communication between companies and the government, for example, by carrying out surveys and offering workshops. Afterwards, Liang Junqiang explained the main policies included in the 12th Five-Year Plan to raise a building's energy efficiency in China, especially in the field of solar energy building integration.
The participants of the workshop agreed that the mandatory laws that some large municipalities have implemented for solar in newly built houses has, so far, been pushing the market. On the other hand, the entire industry is suffering from cut-throat price competition, serious plagiarism, and a lack of maintenance after installation.
It is hoped that the government's launch of the BISE will have a strong effect on the industry by increasing the sector's creativity when it comes to integrating solar thermal in buildings. It is also thought to help establish new quality standards for the sector.
More information:
http://www.solarwiki.info
http://www.imsia.org
This news piece was written by Joseph Huang, Manager of the Building Energy Management Project at the International Copper Association's office in China.