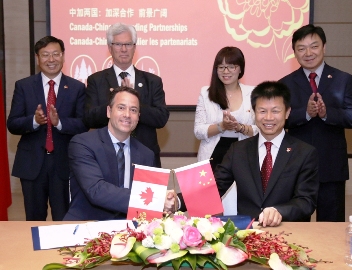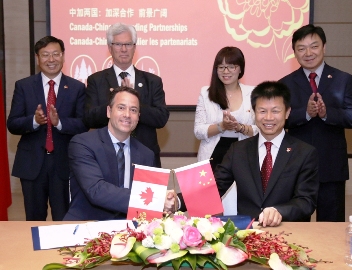 China: Sunrain Finalises Strategic Cooperation Agreements
The Chinese Sunrain group, the world's biggest collector manufacturer, is broadening its product portfolio to include large-scale solar thermal plants. Sunrain had already made the first step towards globalising its strategic partnerships by establishing a joint venture with Danish-based Arcon-Sunmark in June 2016. It has now concluded a cooperation agreement with CanmetEnergy in Canada with the aim to develop solar district heating systems using borehole heat storage fields for seasonal storage in China. Canada's Minister of Natural Resources Jim Carr (back row 2nd from left) oversaw the signing of the agreement during his visit to China in June 2017. The agreement was signed by Xinjian Xu, Founder and Board Chair of Sunrain Solar Energy (front right) and Frank Des Rosiers, Assistant Deputy Minister of Natural Resources Canada's Innovation and Energy Technology (front left).
Photo: Natural Ressource Canada
Arcon-Sunmark is an experienced turnkey supplier of large systems and had previously set up several big solar district heating installations with seasonal underground heat storage in Denmark. Sunrain's new collaboration partner CanmetEnergy, a leading research and technology organisation on clean energy in Canada, has had long-term experience with another seasonal technical solution, namely borehole heat storage.
Introduction of borehole heat storage in China
"The objective of our five-year cooperation with CanmetEnergy is to introduce solutions for seasonal borehole heat storage in China," explained Jiao Qingtai, Vice President of Sunrain (back left in the photo above). "We have already identified several potential sites – one of them a university campus which has a district heating system and another next to a public building complex with a soon-to-be-built district heating system – which we will now investigate further."  A press release by Natural Resources Canada, Canada's federal energy ministry, said that its CanmetEnergy branch would provide technical support, from initial screening and feasibility studies to detailed engineering design and performance monitoring of large solar seasonal storage. The total contract value is said to be CAD 5 million, but will be paid based on services provided.
CanmetEnergy has 470 employees in total and three labs across Canada. Doug McClenahan, head of the Renewable Heat & Power group with 20 employees, will oversee and direct the project with Sunrain. According to McClenahan this cooperation will be the largest privately funded research project in renewables at CanmetEnergy.
Big plans for solar district heating in Tibet
The joint venture with Arcon-Sunmark aims at developing solar district heating projects in China, with the primary market to be in Tibet, a region in the southwest of China. "The central government has big plans for developing solar district heating networks in this sunny region, which lacks notable amounts of fossil fuels or coal," explained Qingtai. Design will start from scratch, as Tibet does not have any heating networks. Towns and villages are at an altitude of around 4,000 metres, which makes water boil at as little as 85 °C – a challenge for designing large-scale collector fields. The backup system is said to be a heat pump. "We are expecting the first construction activities in Tibet to start by the end of this year," said Quingtai.
Websites of organisations mentioned in this article: