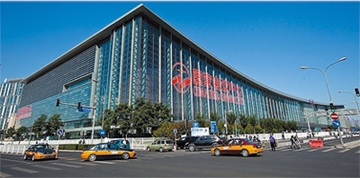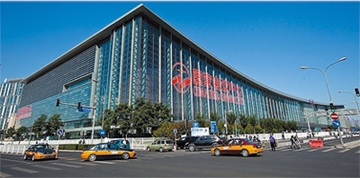 China: SHC 2014 and Solar Thermal Industry Exhibition
After San Francisco, USA, and Freiburg, Germany, this year's venue for the International Conference on Solar Heating and Cooling for Buildings and Industry is going to be the Chinese capital, Beijing. Researchers from all around the world have been invited to attend the annual scientific conference of the International Energy Agency's Solar Heating and Cooling Programme (IEA SHC) between 13 and 15 October 2014. The three-day conference, which will be held at the China National Convention Center (see the photo above), will be jointly organised by German PSE and the China Academy of Building Research (CABR).
Photo: SHC 2014
Online registration
will end on Wednesday, 8 October 2014. The complete conference programme is available
online
in form of an interactive tool, which allows zooming in on all sessions and viewing all keynotes, oral presentations and posters.
There will be an opening session with keynote addresses by the two conference chairs, Werner Weiss, former Chair of the Austrian IEA SHC programme, and He Tao, Professor at the CABR, China, as well as a welcome speech by the Chinese Ministry of Science and Technology.

The parallel sessions are going to be dedicated to a broad variety of topics: Market reports and framework conditions, new developments in collectors and tanks, solar cooling, process heat, solar architecture, standards and certification, as well as polymeric materials.
Exhibition of industrial and commercial system solutions
There will also be a solar thermal industry exhibition at the same time and place as the conference. This exhibition by the China Solar Thermal Industry Federation (CSTIF) is said to showcase components, as well as industrial and commercial system solutions. "By co-locating these two events, the conference and exhibition organisers have created a venue for scientific and commercial networking and exchange," a press release sent out on 12 September 2014 states. Companies interested in a booth can find the relevant contact information on the following web page:
http://www.cstif.com/html/newshow22449.html
China joined the research programme IEA SHC in 2012
The International Energy Agency's Solar Heating and Cooling Programme was established in 1977. Its objectives are cooperative research, development, demonstration and exchange of information regarding solar heating and cooling systems. As a late addition to the programme, China joined the other 20 member countries and the European Union in 2012.
CSTIF is a nationwide solar thermal industry association with around 500 members and a permanent staff of between 4 and 5 people in its Beijing office. The association publishes a monthly magazine on solar thermal energy and also presents annual market statistics on the Chinese solar thermal market at every December meeting (see the
2013 meeting
).
More information: