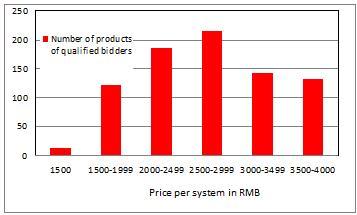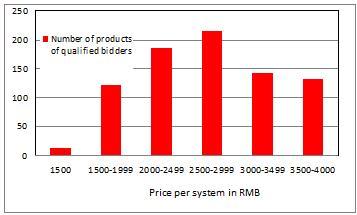 China: Rebate Programme Increases Market Transparency
The result of the first bidding in the spring of 2009: 92 Chinese solar thermal system suppliers, offering a total of 806 products, qualified for the rural incentive programme. The figure shows the number of systems per price range in RMB (10 RMB is about 1 EUR).
Source: Center for Renewable Energy Development
The first national incentive programme for installing solar water heaters in China's rural areas was introduced in April this year. 8 months later, solarthermalworld.org interviewed some of the big players in the industry to ask them about their experiences with the programme. All four companies – Linuo New Materials, Huihuang, Sunrain and Huayang – appreciate the rural incentive programme with a 13 % rebate on the costs of a solar water heater. First, because it raises sales in rural areas and second, because it increases the transparency on the national solar thermal market.
"This programme reflects the state of the solar thermal industry in China and increases competitive pressure," Linuo New Materials answered on the questionnaire. The collector manufacturer Huihuang from Jiangsu agrees that the programme, "helps to improve the recognition and credibility of companies in the domestic market."
What produced this effect? The programme started with a tender in April. Bidders of this first tender round had to be legally registered companies, which are able to supply solar water heaters in acceptable quantities. 92 out of the 133 applying companies qualified for the programme. Together, they offer 806 products. The diagram above shows the price range of their products:
Linuo New Materials considers the number of qualified manufacturers as already too high: "We assume that the incentive programme will continue over the next four years and we hope that the number of entry applications will gradually decrease". And Sunrain criticises that the "product quality is not controlled and the after-sales service is not perfect". These are new voices in the Chinese industry, which are stimulated by the transparent structure of the incentive programme.

More information:
National rural rebate Programme: http://jdxx.zhs.mofcom.gov.cn/admin/news.shtml?method=view&id=77198574
Sunrain: http://en.sunrain.com/
Huihuang: http://www.huihuang.com.cn/english/
Linuo New Materials: http://www.lnxcl.com/
Huayang: http://www.solarheatercompany.com/