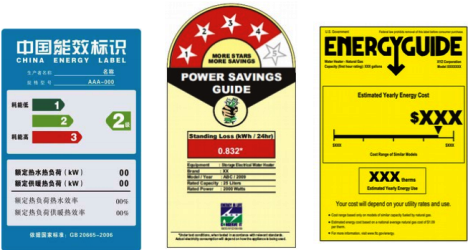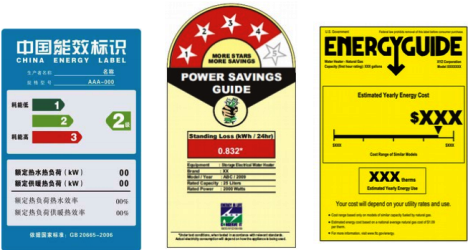 China, India and USA: Study Recommends Policies for Energy-Efficient Water Heaters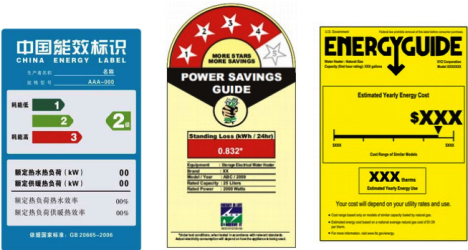 A study by US non-profit organisation Clasp, British management consultancy Waide Strategic Efficiency and other partners has analysed the market potential of efficient water heater technology, among them solar thermal systems and heat pumps in China, India and the USA. The 176-page document Policy Opportunities for More Efficient Residential Water Heating shows the key differences between markets and policies and gives advice on policy measures to reduce the energy consumption of water heaters. One central recommendation is to implement energy efficiency labels, which would allow customers to compare different water heater technologies. No such labelling has been in place yet in any of the three countries. The chart shows the Chinese energy label, which is only used for gas combi boilers, the Indian label for electric storage water heaters and the US label for gas-storage water heaters. 
Figure: Clasp
Water heaters account for a large share of domestic energy consumption. But as the study shows, this share differs from country to country. Whereas it amounts to 18.5 % of domestic energy consumption in the USA, it is 7.1 % in China and only 5.4 % in India. The difference is mainly not one of higher efficiency, but rather one of quantity: Many households in India and China do not have water heaters, and even if they do, they consume less hot water than US families. Consequently, the importance of domestic water heating is quickly increasing in the energy balances of those huge countries.
Additionally, the authors break down the share of different water heater technologies by year. These figures differ significantly from country to country, as the following table confirms. "The sales of water heaters in China peaked around 2012," Paul Waide, Director at Waide Strategic Efficiency and one of the authors of the study, explained during a webinar on 15 March 2016. "Now a reduction in newbuilds is effecting sales numbers. There will be a decline in water heater sales until it becomes a replacement market."
| | | | |
| --- | --- | --- | --- |
| | China [%] | India [%] | USA [%] |
| Solar | 35.7 | 13.8 | 0.6 |
| Heat Pump | 1.2 | 0.0 | 1.5 |
| Gas Instantaneous | 20.7 | 9.8 | 14.2 |
| Gas Storage | 0.4 | 0.0 | 38.1 |
| Gas Combi | 2.5 | 0.0 | 0.0 |
| Electric Instantaneous | 2.9 | 21.7 | 0.0 |
| Electric Storage | 36.6 | 54.8 | 45.4 |
| Total number of units per year | 48 million | 3.9 million | 11 million |
Share of different water heater technologies in annual number of sold devices in 2012 (India and China) and 2013 (USA).
Source: Clasp
Water heater policy recommendations
In the last chapter of the study, the authors give both general and country-specific advice. One of the general recommendations is the reduction of initial cost barriers in case of high-efficiency systems, such as solar water heaters or heat pumps, by granting financial incentives. They also recommend measures for quality assurance to grow customer confidence.
Regarding country-specific advice, recommendations have been adapted to already existing mechanisms and policies. For example, India could use the Jawaharlal Nehru National Solar Mission plan as a basis for solar and heat pump financial incentives. When it comes to the USA, the study suggest converting the existing energy guide label into labelling based on a full fuel cycle, so consumers will be able to compare different types of water heaters. The US model building codes should also be revised to reward or mandate renewable energies and energy efficiency in newbuilds and during major renovation.
Clasp is a non-profit organisation which was established in 1999. Its goal is to mitigate the growing energy demand resulting from the use of appliances, lighting, and equipment. The
Clasp website
offers the complete study, the recording of the webinar and a fact sheet.