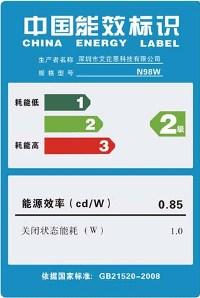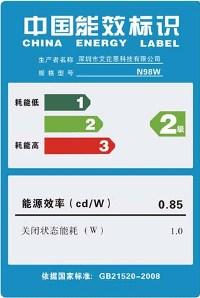 China: Compulsory Energy Efficiency Label
Solar water heaters produced after 1 September 2012 require the China Energy Label in one of three different classes: 1, 2 or 3. The aim of the label, which was initiated by the China National Institute of Standardisation, is to promote energy-efficient and high-performance appliances. The label was compulsory from the very first day on, although there has been a certain transition period for products in stock. It also applies to a number of other products and is a must-have for companies which want to receive funding from the newly launched national solar water heater subsidy programme (see the news piece from November 2012).
According to the label standard published on 10 October 2011 by the General Administration of Quality Supervision, Inspection and Quarantine (AQSIQ) and the Standardization Administration, both institutions of the People's Republic of China, companies are no longer able to sell their products on the national market if these products do not meet at least the requirements of class 3 of the China Energy label (see the attached document in Chinese). The label is based on the test results of residential solar water heaters, either thermosiphon compact systems or split pumped circulation systems. Once the systems have been tested, the manufacturers can register their products and results online at http://www.energylabel.gov.cn, a webpage run by the China National Institute of Standardization (CNIS).
Congcong Shi, Solar Product Manager at Bosch Thermotechnology (Beijing) in China, estimates that it will take 2 to 3 months to receive the test reports because of long waiting lists and another 1 to 2 months to register for the energy efficiency label. The label, however, has already been in effect since September 2012, which means that manufacturers still have to have some time to label their existing products. The above-mentioned paper, however, does not include any official transition period.
The main label category is the Coefficient of Thermal Performance (CTP), which is the ratio between the measured and usable thermal output per day based on the gross irradiation area under test conditions and the minimum daily thermal outputs allowed in GB/T19141 for compact systems (the standard for split solar systems has yet to be approved). The exact formula can be found in the Technical Requirements chapter of the attached regulations.
Energy Efficiency Level

 1
2
3
Solar water heater with tank and collector split but one-loop system
CTP≥ 0.48
  0.30 ≤  CTP < 0.48
0.10 ≤  CTP < 0.30
Solar water heater with tank and collector split but two-loop system
CTP≥ 0.48
  0.30 ≤  CTP < 0.48
0.10 ≤  CTP < 0.30
Solar water heater with integrated collector system
CTP≥ 0.5
  0.32 ≤  CTP < 0.48
0.10 ≤  CTP < 0.32
More information:
http://www.energylabel.gov.cn
http://www.aqsiq-certificate.com/
en.cnis.gov.cn/