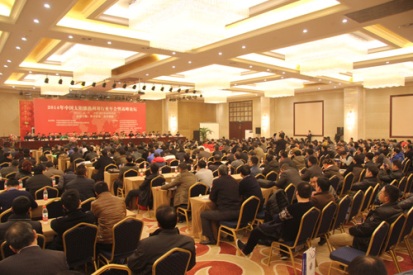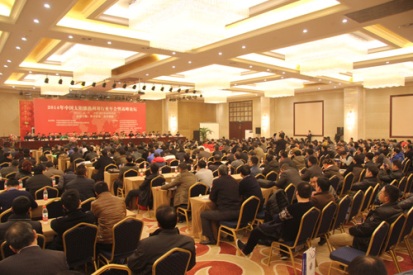 China: Association Assembly Titled "Keep the faith in reform and innovation"
China is not only number one in installed solar thermal power worldwide, but it is also the country quickest to publish the results of current market statistics. Hundreds of industry stakeholders met in the city of Linyi, Shandong province, on 18 and 19 December 2014 to discuss the currently difficult market situation for solar heating and cooling during the annual assembly of the Chinese Solar Thermal Industry Federation (CSTIF). According to the annual market statistics published by The Sun´s Vision from Dezhou, Shandong, newly installed collector area was down by 18 %, from 63.6 million m² (44.5 GWth) in 2013 to 52.4 million m² (36.7 GWth) in 2014. Hongzhi Cheng, Head of Sun´s Vision and Vice President of CSTIF, expects market volume to drop only slightly in 2015, down to 50 million m² (35 GWth). This year's USD 300 million of export volume was the same as in 2013.
Photo: CSTIF
Hence, 2014 is a clear turning point after the 2.5 million m² of newly installed collector area in 1997 marked the beginning of an astonishing trend upwards: Continuous double-digit growth rates helped increase market volume 25-fold and reach its peak in 2012, with around 63.6 million m2 of newly installed collector area. "Overcapacity is troubling the industry, demand is weak and enterprises are facing problems," Jiuchen Wang explained in his opening remarks, according to an online report on the assembly on cstif.com. The Secretary General of the China Association of Rural Energy Industry (CAREI) emphasised the importance of "speeding up industrial restructuring" without stating any reasons for the market slump. "Innovation is the driving force of business development. Survival depends on quality-oriented, differentiated technologies and products which meet individual and diversified consumer requirements," Wang added.
20 % renewables in primary energy consumption in 2030
The secretary general took a look at the national macro-policy level, reminding the attendees about the recent China-US Climate Agreement, in which President Jinping Xi pledged to increase his country's share of non-fossil fuels in primary energy consumption to around 20 % in 2030. "According to the relevant statistics, solar thermal accounts for 14 % of non-fossil energy sources. So, over the next sixteen years, the technology would need nearly double-digit growth to achieve this ambitious goal," Wang said.
"Continuous innovation and new applications to expand the market," was key to turning around the recent decline, Xiaoli Shang, Executive Director of CSTIF, said in his speech. It seems that the fruits on the low-hanging trees have already been picked clean and further expansion of the Chinese market requires additional efforts. The rural residential market is stagnating or even decreasing. The engineering market segment, which includes building integration and industrial process heat systems, is booming but cannot yet offset the losses in the residential market.
Rural segment a big market
Zhentao Luo, Honorary Director at the CAREI solar thermal professional committee, pointed out the great prospects of the solar thermal industry regardless of current problems. Luo told the industry representatives "to improve your semi-finished systems, so that they truly become commodity products." He emphasized the importance of not ignoring "the rural market, which is now a big market." Luo quoted the president of the Solar Energy Society of Hebei Province, saying that only 30 % of all rural households have been using solar-heated water by now.
More information: