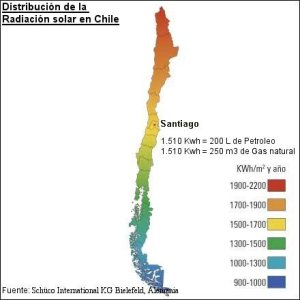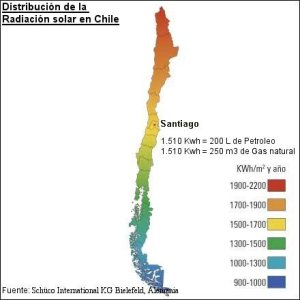 Chile: Tax Rebate for Construction Companies
Sunny Chile: On 19 November 2009, the National Energy Commission held a presentation on the "regulatory framework for solar thermal in Chile" that led to the introduction of a new tax rebate programme for solar water heaters (SWH) in August this year and will last until 2013.
Source: Schüco
According to the presentation in Spanish, the Chilean solar thermal market is facing several difficulties, among them a lack of technology and the benefits resulting from it, disbelief due to bad experiences in the past, high initial costs for a system, high capital payback periods for housing and the lack of technical training, certification and standards. Trying to counter these negative effects, the Chilean government launched, among other measures, a national tax rebate programme this August, in order to facilitate housing projects for low-income families. Its details are listed under law number 20.365 "Establece Franquicia Tributaria Respecto de Sistemas Solares Térmicos", which may be translated best as "providing tax relief for solar thermal systems".
According to the new law, construction companies are able to deduct a certain share of their investment costs in a solar thermal system, including its installation, from the down payments the law requires on any tax declaration. Eligible are solar systems capable of delivering at least an average 30 % of the annual hot water demand. The maximum amount of tax relief a company can claim depends on the value of the property, which includes the cost of building land and actual construction. It is well possible to deduct the entire investment costs for a solar thermal system if the overall property value does not exceed UF 2,000, with UF being Chile's inflation-adjusted accounting currency, the so-called Unidades de Fomento (UF 1 = € 28, as of December 2009). Amounts of less than UF 3,000 gain a company a tax relief of 40 %, whereas properties not exceeding UDF 4,500 make for a 20 % deduction of the system's investment costs (further details of the support scheme can be found in the database of incentive programmes).
Companies and constructors can receive the tax rebate they granted the client as a reduction on the price of the solar system by registering with the governmental agency overseeing the electricity and fuel sector in Chile, the Superintendencia de Electricidad y Combustibles (SEC). SEC will also have the task of approving certification, inspection bodies and testing laboratories. In order to receive the rebate, a company is required to submit not only the system's model and serial number, but also a calculation form and proof that the system's design allows for the minimum contribution to hot water generation (30 %).
The aforementioned presentation of the National Energy Commission includes some market figures as well. Studies estimate the installed collector area in 2007 and 2008 to be around 8,000 m2. The application range of solar thermal in 2007 can be broken down into 33 % residential, 20 % swimming pools, 20 % companies and institutions, 19 % industrial sector and 8 % others (see figure above).
More than 75 % of all systems sold possess flat plate collectors. Only 57 % of Chileans have access to tap water. 90 % of this water is heated by using natural gas, which undoubtedly makes it Chile's number one energy source for hot water generation. Currently, the solar thermal industry in Chile counts more than 100 companies. Although the market for solar water heaters has grown in the last couple of years – mainly through imports – Chile's solar companies do not possess the know-how to manufacture solar thermal systems themselves. Local manufacturers only offer some components, not entire systems.
More information:
National Energy Commission, Ruben Bustos Muñoz: rmunoz@cne.cl, http://www.cne.cl
http://www.sec.cl/portal/page?_pageid=33,1&_dad=portal&_schema=PORTAL
http://www.diariooficial.cl/actualidad/20ulle/20365.html