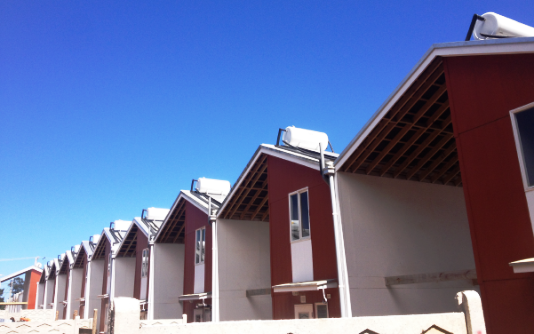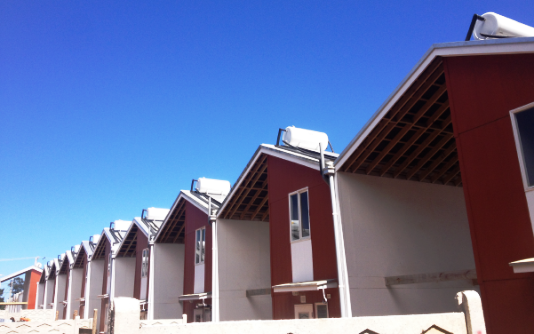 Chile: Solar Thermal Market Moves at Half Throttle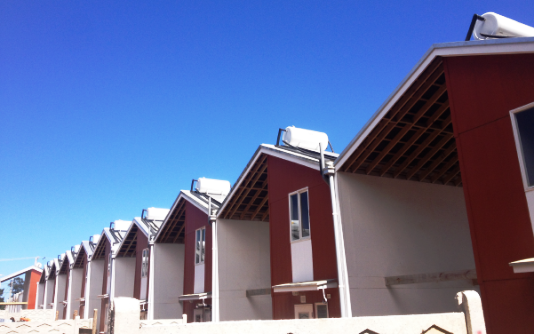 One year after the relaunch of the tax credit scheme for solar thermal systems in February 2016 (Law 20.897), some preliminary figures show a small increase of Chile's solar market. But although the subsidy for newbuilds will be in effect until 2020, industry representatives have not been particularly satisfied with the impact of the new legal framework. Their criticism was supported by the fact that the announced subsidy scheme for social housing projects and low-income families has yet to be implemented. The market has improved slightly, but is moving at only half throttle. The photo shows the Villa Verde houses in the coastal city of Constitución. Some of the units which are part of this housing project have a thermosiphon system installed on the roof.
Photo: Calder
According to a document published by the minister of energy on 28 February 2017, the tax credits had made it possible to install solar thermal systems in some 7,900 newbuilds between 5 February and 31 December 2016. Obviously, this represents quite a jump in installations when compared to the 4,718 newbuilds for which the previous tax credit scheme had supported a solar water heater installation in 2014, the final year of the preceding Act 20.365 (it must be noted, however, that the scheme did not run the entire year back then). The Chilean solar industry association, ACESOL, said that there were no official figures on the number of solar thermal installations in Chile, but that most of the new systems had been subsidised.
However, some industry representatives remain fairly pessimistic and have been reminding everyone that "many of the systems cited by the ministry had already been installed in 2015 and early 2016, as housing projects completed between January 2015 and February 2016 were accepted retroactively," said Tomás Milnes, Founder of Calder, one of the main manufacturers in Chile. Milner explained that the bill had been approved in February 2016, but that the required application forms had not been available until later last year.
Andrés Bogolasky, President of ACESOL, said: "The new law has not been very effective, mainly for two reasons: It was not until late 2016 that the tax credit scheme went into force, and the construction industry is stagnating." Bogolasky explained that the size of the country's housing market had been shrinking and with it, the number of system owners who may have profited from subsidies. "There were USD 45 million budgeted for solar tax credits between 2016 and 2020, but we believe that between USD 12 and 14 million (20 to 30 % of the total) will not be spent by 2020." Bogolasky said that his association was trying to find alternatives for redirecting these unused subsidies towards other spending measures.
Social housing on hold
In addition to the above-mentioned tax credit schemes, another USD 45 million budget has been directly managed by the Ministry of Housing. The money was intended for low-income families who have not had access to water heating and was to be granted to social housing developers in a segment were the tax credits do not apply. However, one year after the bill was approved, its regulations are still not in force and there is no approval date in sight. "At the end of 2016, we were told that the subsidy scheme will be in force by March 2017 – but so far, no news on it," said Milnes. He believes that these incentives could be an important stimulus to a domestic market which has been sluggish for some time.
In Bogolasky's view, the social housing incentive suffers from a lack of coordination between the housing and energy ministry. "Both ministries were supposed to coordinate their efforts regarding the incentive scheme by early 2016. But it's complicated, so we have not yet received a reply about when the scheme will start."
Solar thermal soon mandatory?
Whatever the outcome, one thing is certain: The tax credits are due to end by 2020 and industry experts are searching for new ways to create a stable market by then. Milnes said that a long-term option could be a solar building code requiring solar thermal installations in all new building units. ACESOL's president agreed: "We are in talks with the government about a replacement for the current tax credit scheme, and a requirement for newbuilds could be a good alternative. However, we believe that such an alternative will not be available until 2020."
Websites of organisations mentioned in this article: