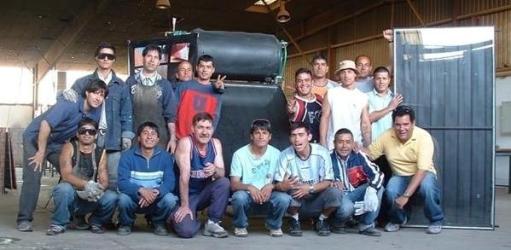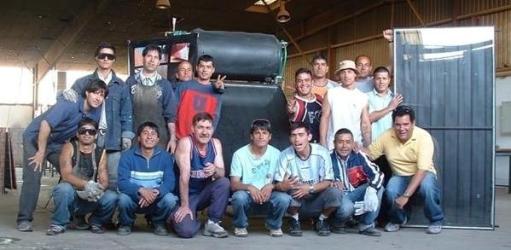 Chile: Producing Collectors in Jail
Chile's first – and so far, only – collector manufacturer is producing its collectors at the Colina 1 jail in Santiago de Chile. The workers earn a wage which allows them to help their family. In 2009, the workshop produced 1,500 m2 of collectors with copper fins.
Photo: Britec
Initiator of the project is Jaime Briceño (far left on the picture). In 2006, the mechanical engineer was working at Aachen University, Germany, during which time he learned about the technical features important to constructing a high-performance collector. When he came back to Chile, he established Britec together with some other engineers, and contacted the jail in Santiago de Chile. National copper producer Codelco (Corporación Nacional del Cobre de Chile) supported the initiative by delivering its copper on credit. "In the beginning, we paid Codelco after selling the manufactured collectors," explains Briceño. Britec pays the workers industry standard wages.
The entire collector manufacturing is done by hand: First, the workers solder the harp-type pipes to omega-form copper fins. Then, they spray black paint by US manufacturer Solec as a coating on the fins' back side.
The national solar thermal market is still a young industry: Briceño estimates that around 17,000 m2 of collector area will be newly installed in Chile this year. Britec wants to contribute 12 % to this figure. The majority of the collectors are imports. The sector profits from a tax credit for construction companies, which can deduct a certain share of their investment costs into a solar thermal system, including its installation, from the down payments tax law requires.
More information:
http://www.britec.cl
http://www.solec.org