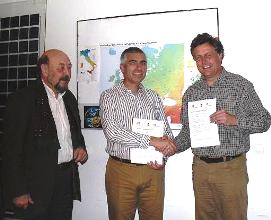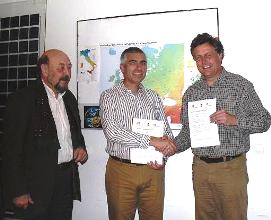 Chile: DGS and ACESOL agree to mutual Membership
German-Chilean cooperation in the field of solar energy: On 7 November 2010, the German Solar Energy Society (DGS) and the Chilean Solar Association ACESOL reached an agreement on reciprocal membership in Berlin. The cooperation contract was signed by ACESOL Honorary President Pablo Pastene (centre), DGS Secretary General Uwe Hartmann (right) and the Director of the DGS Regional Association of Berlin Brandenburg, Rainer E. Wüst (left).
Photo: ACESOL
According to Uwe Hartmann, the agreement between ACESOL (Asociación Chilena de Energía Solar) and DGS includes the following items:
Cooperation in the conduct of solar energy training sessions in Chile
Cooperation in the conduct of studies, assessments and technical inspections for solar thermal and PV systems
Implementation of the RAL quality mark 966 in Chile
Use of the DGS guides for solar thermal and photovoltaics in Chile.
ACESOL holds DGS membership number 24667. Rainer E. Wüst visited Chile in December to kick-start the German-Chilean project.
More information:
http://www.dgs.de
http://www.acesol.cl