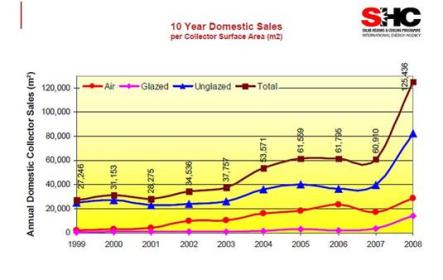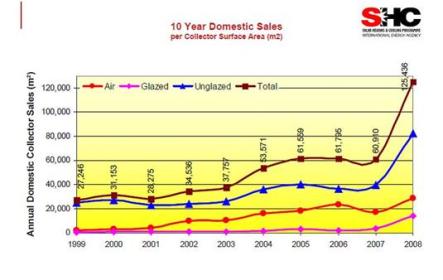 market development in Canada
Canada: Steep increase in unglazed Solar Collectors in 2008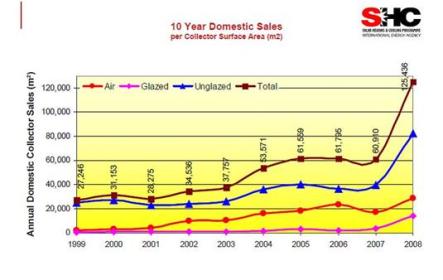 The Canadian solar thermal market is taking up speed:  Natural Resources Canada (NRCan) published the preliminary results of a market survey that found the number of installed collector area to have doubled in 2008, from 61,000 to 125,000 m2. Source: NRCan
The study incorporates installation figures of solar air collectors, as well as unglazed and glazed ones (see attached document). The biggest share of the market with high growth rates shows the segment of unglazed collectors, used either for air heating and cooling or swimming pools. Solar water installations with glazed collectors still represent the smallest segment, which nevertheless grew rapidly, too.
Wesley Johnston, the Director of Policy and Research at the Canadian Solar Industries Association (Cansia) named four reasons that caused this steep increase last year:
A banking system relying on more conservative forms of investments, giving Canada´s economy a little more leeway than other country's markets 
Growing public awareness of climate change and renewable energies
Community involvement to promote and support solar thermal deployment
Attractive federal incentives for solar thermal applications (both residential and commercial), with some provinces offering complementary incentives on top of the federal ones
Cansia already reacted to the growing importance of air heating systems on the market. "A Cansia Solar Air Committee is being developed to look at all solar air technology, in order to find ways of increasing the deployment of this type of technology and garner greater federal government support," explains Johnston. Cansia's Director is quite confident about the future development of the sector in Canada: "We expect the solar thermal market to increase by approximately 30 to 40 % annually over the next 5 to 10 years".
More information:
http://www.cansia .ca
http://www.RNCan.gc.ca