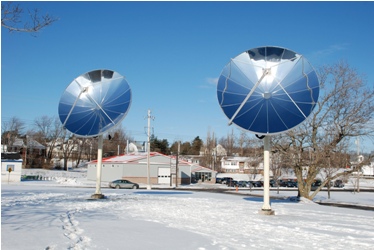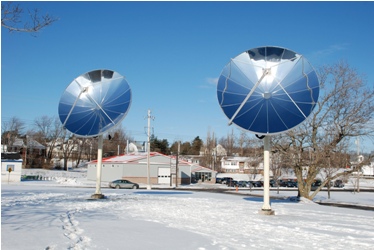 Canada: Solarbeam replaces up to 15 Flat Plate Collectors
The Canadian company Solartron Energy Systems installed the first nine Solarbeam Concentrator collectors. The subsidiary of the Canadian company EG Energy Controls was founded two years ago, to launch and market the medium temperature parabolic collector that provides solar hot water up to 98 °C.
Photo: Solartron Energy Systems
The 4.5 m wide parabolic dish concentrates the sunlight on a 25 x 25 cm receiver that is made from aluminum casing with a special black coating to ensure minimal heat loss even in –30°C. "We run the Solarbeam at low pressure and can produce up to 98°C hot water with a flow rate of 15 liters per minute," explains Julia Herniak, responsible for sales and marketing at Solartron. "We can heat 1,000 liters of water within only 5 hours". The Solarbeam maintains an efficiency of 82% even when heating water to over 90°C. Since the Solarbeam does not loose efficiency at high water temperatures and it can track the sun throughout the day, it can replace 10 to 15 flat plate collector panels – depending on the type of collector.
The development of Solarbeam started two years ago, but at the beginning the company was not satisfied with the commercially available parabolic dishes, because they were not efficient enough. "So we developed our own perfectly curved parabolic dish, that is available since November 2010", says Herniak. In the meantime 9 Solarbeams with the in-house developed technology are in operation. "We have 3 Solarbeams at our company head office in Amherst, Nova Scotia, 2 Solarbeams are used as a solar preheating system at a bottling plant in Nova Scotia, 1 is installed at a government building, 3 are installed for covering domestic hot water demand and 2 are currently being installed in Kenya and Australia."
Solartron Energy Systems is now in the rollout of the technology and has orders for selling around 40 more Solarbeams. The Canadian manufacturer is searching for distributors – even in Europe. A training seminar is being scheduled in the middle of March 2011 to meet the demands of potential distributors.
More information:
http://www.solartronenergy.com/
There are also videos available that shows how the Solarbeam tracks works: http://www.youtube.com/solartronenergy