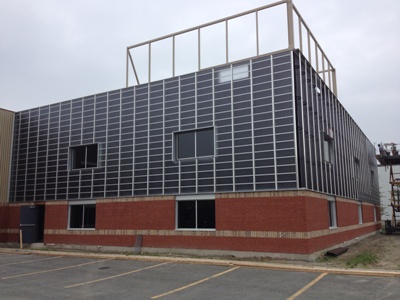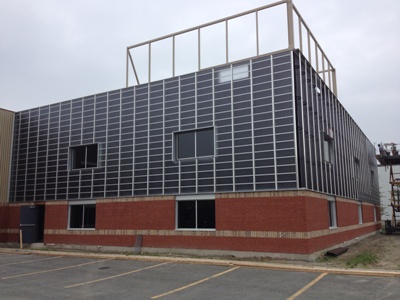 Canada: Aéronergie's Acquisition of Enerconcept Leaves Company and Product Names Intact
At the beginning of October, Canadian air collector manufacturer Enerconcept became part of Canadian engineering company Aéronergie. Aéronergie is a young company, founded three years ago with the aim of offering efficient heating solutions to manufacturers which "keep spending large amounts on energy in spite of unseen substantial savings," according to a press release from 7 October. "With the acquisition of Enerconcept, Aéronergie extends its portfolio into solar in a big way," the press release adds. Aéronergie and Enerconcept have been working together since 2012, the former as a complete solution provider and the latter as an installer. Both companies realised a number of projects together by offering comprehensive packages to industry owners and reducing their heating costs by 60 to 90 %. The photo shows one of these projects – a 230 m² Lubi wall with a cross-flow heat recovery unit at the industrial painting specialist Fuzion TK in the town of Drummondville in the Québec province.
Photo: Enerconcept
"With solar air, you can cut ventilation heating costs by 15 % to 35 %, whereas a well-tailored package will deliver up to 90 % reduction," Christian Vachon, former Managing Director of Enerconcept, explains the advantages of the Aéronergie-Enerconcept collaboration. "We are monitoring our installations and guarantee the cut-down on costs. We have also started to finance projects and get repaid through what is saved." Vachon, who founded his company back in 1998, confirms that his company name remains as a trademark and division of the Aéronergie group. He developed a number of unique air collector products, such as the polycarbonate Lubi, the wall-mounted metal Unitair and the roof-mounted
Luba GL
. All products and product names will still be there under the new ownership.
Larger air-heating projects in Germany in the pipeline 
"The merger with Aéronergie was a good move for my company," Vachon, who is responsible for Business Development and R&D at the Aéronergie group, confirms. Many of his former team are again working under the new leadership, and the newly established company now has its headquarters in the city of Drummondville in the province of Québec. The international sales activities of Enerconcept were also taken over by Aéronergie and will be consolidated. "We are satisfied with the business development in Europe in general and are planning large projects in Germany in the near future," Vachon confirms.
According to the press release, there have already been quite a few large solar air-heating projects in the pipeline, among them the new Drummondville production factory of Soprema, a French-owned manufacturer of roof membranes. "Next year alone, we will have more than 25 schools in the province which are ready for our solar air-heating systems," Vachon says. "By combining both company lines of products, customers shall benefit from larger cost reductions and even quicker returns on investments," Carl Binette, Head of Aéronergie, was quoted as saying in the press release. The young company intends to double its turnover within three years, in part thanks to this acquisition.
More information: