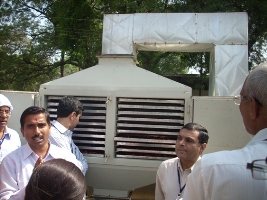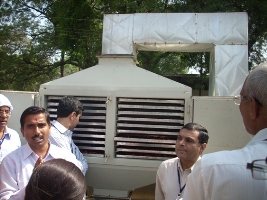 Calls for Intensive R&D on Solar Thermal Air Drying in India
The Sardar Patel Renewable Energy Research Institute (SPRERI) organized a one day workshop on solar thermal drying at the end of March 2010. Its aim was to intensify the efforts of tapping into the national market potential for using solar applications to dry agricultural products.
Photo: Jaideep Malaviya
SPRERI is located in the country's "milk capital city" of Anand in Gujarat state, Western India. Gujarat state is one of the leading regions in India when it comes to showcasing the success of solar thermal air drying technology on a commercial basis. More than a dozen projects are successfully drying tomatoes, pineapples, mushrooms, aromatic plants, herbal medicine plants, wood logs, Indian gooseberries (called "Amla" in Hindi) etc. With their technical support for the dryer design, the scientists at SPRERI played a major role in implementing this technology in the region.
SPRERI has been at the forefront of developing a variety of solar air dryers, which can be classified into direct solar dryers and indirect solar dryers. By placing the produces in the collector itself, direct solar dryers expose them to the full spectrum of sunlight – which also exposes them to UV radiation. The indirect dryers use fans to blow hot air through a tunnel on the wet agricultural fruits. Such a device can also be used in combination with other energy sources to convert it into a hybrid dryer and is often called a "solar tunnel dryer".
The conference schedule included presentations of several case studies of farmers successfully using the technology described above. Their dried tomatoes, pineapples and wood chips were successfully exported, too. The Federal Indian Ministry of New and Renewable Energy (MNRE) provides a maximum subsidy of 1,750 INR/m2 of installed air collector area.
Manufacturers expressed the wish to MNRE to start an awareness campaign amongst farmers on a national level, since 75% of the country's income is earned in the agriculture sector. They also demanded more funds for SPRERI to strengthen the R&D in this sector. Additionally, they expressed their desire for SPRERI to offer a training programme for both stakeholders in the sector, as well as for creating awareness among farmers who are thinking about investing into a solar drying unit.
More reading at http://www.spreri.org