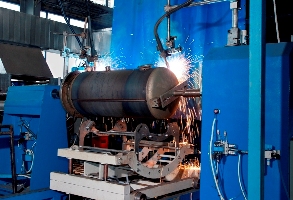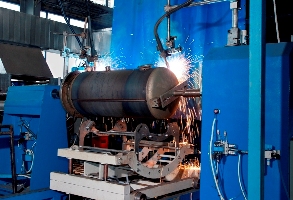 Bulgaria: New Manufacturer notice Up and Down on the Market
The city of Shumen in the northeast of Bulgaria is becoming the centre of the national solar thermal industry. Right next to already established solar system manufacturer New Energy Systems, Bulgarian company Tesy has built up a solar tank and collector production unit last year. The company invested EUR 5 million for the new building and machinery.
Photo: Tesy
Tesy is a well known electric water heater manufacturer with around 400 employees. "The groundwork for the solar thermal production unit at Shumen started in 2009," Stanislav Yordanov, Marketing Manager at Tesy, reports. "At the beginning of 2010, we started producing". Tesy bought an ultrasonic-welding machine and offers collectors with full plate copper absorber plates. Collectors with purchased, laser-welded aluminium absorbers complement the company's product range. With respect to the tank, the Bulgarian manufacturer offers enamelled indirect cylinders and buffers from 200 to 2,000 litres.
The Bulgarian solar thermal market was booming in the years 2007 and 2008 due to the dynamic development of the building sector at the country's seaside. A lot of hotels were inaugurated back then, offering potential for larger solar thermal systems. According to the figures of the European Solar Thermal Industry Federation (ESTIF), market volume was around 25,000 m2 annually.
But then, a building crisis hit the country and slowed down the building sector. In addition, the Residential Energy Efficiency Credit Line (REECL) came to a close in January 2010, which negatively affected market development, too. Yordanov estimates that the newly installed collector area in Bulgaria was only around 8,000 m2 last year.
There has been only one programme running currently, which has little effect on the market and collector sales: The Bulgarian Energy Efficiency and Renewable Energy Credit Line (BEERECL), a credit programme offered by the European Bank for Reconstruction and Development (EBRD), which has been equipped with a budget of EUR 55 million and is running until 31 July 2011. According to the programme´s statistic, only a handful solar thermal systems were among the projects subsidised with it.
More information:
http://www.tesy.com