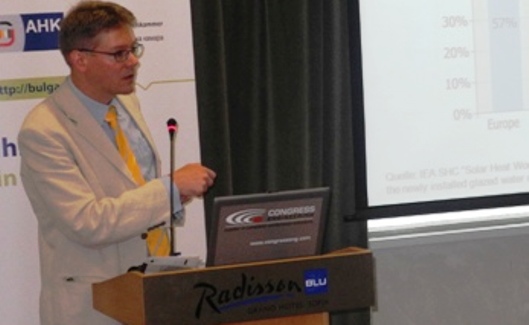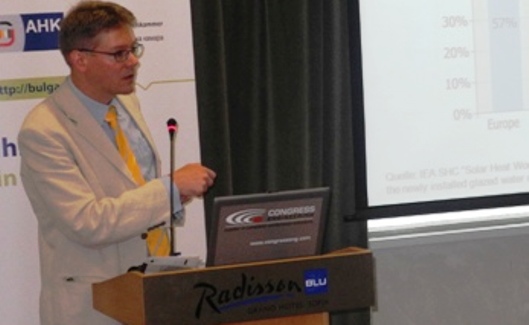 Bulgaria: Experts Discuss Solar Thermal at Renewable Energies in Buildings Conference
Once again, Bulgaria is facing political turmoil, with early elections due to take place in autumn. The outgoing cabinet of Prime Minister Plamen Oresharski has been embroiled in fierce disputes with both the conventional and the renewable energy sector. For example, when the government had tried to keep electricity prices low for political reasons, no public or private utility affected by the government's decision received any kind of compensation for its losses. On 17 June, German and Bulgarian renewable energy experts and business representatives, among them solar thermal system manufacturers, gathered for the Renewable Energies in Buildings conference organised by the German-Bulgarian Chamber of Industry and Commerce. Uwe Trenkner, a former Secretary General of the European Solar Thermal Industry Federation, used the conference to speak about solar heating and solar cooling for buildings. "Obviously, the solar heat market in Bulgaria isn't doing so well," he said regretfully.
Photo: Frank Stier
Wind energy and photovoltaics have boomed in Bulgaria in recent years, but solar thermal energy is still lagging behind. The programme Energy Renovation of Bulgarian Homes (ERBH) had already been launched in April 2012, but hasn't taken off since then (see table below). Now – in-mid June of 2014 – the programme had at least gained some traction, the Ministry of Regional Development announced. According to the ministry, 91 companies had applied for the energy-efficient renovation of altogether 108 blocks of flats in 36 towns. Many of the project leaders may view solar thermal systems as a viable option.
Miserable condition of prefab blocks of flats
"You don´t see so much solar water heaters on rooftops in Bulgarian cities. If there are any, you'll find them on holiday complexes and hotels on the Black Sea coast," Olaf Fleck said. With his company Sunset Energietechnik, Fleck was a German PV and solar thermal pioneer in the 1970s and has realised projects all over the world since then. It became clear during his presentation that even the dolphins in Nuremberg's animal park enjoy swimming in a pool heated by a Sunset solar thermal system. "When hearing the words 'renewable energies', most people think of wind and photovoltaics. But most of all, it is solar thermal energy that could greatly benefit sunny but poor countries like Bulgaria," Fleck said. He added that the main obstacle for the development of solar thermal energy in Bulgaria was the unusual ownership structure of the country's residential properties. More than 90 % of the flats in multi-family buildings were owned by the people who lived in them. Getting all of these homeowners to agree to have the façade renovated or the heating system replaced had been extremely difficult – especially in the country´s many prefabricated blocks of flats, which were in really bad shape. "When the Bulgarians find a solution to this problem, we Germans can help them with all we have – experience, products and enthusiasm," Fleck said.
Bulgaria with excellent meteorological conditions for solar energy use 
Hendrik Stengel, Sales and Marketing Manager of German flat plate collector manufacturer STI Solar Technologie International, presented the Thermal Kit Bulgaria, a solar water heater facade system with a 60-litre storage tank. This solar thermal solution for individual flats should meet the specific requirements of the country, Stengel said. "We are here to meet our target customers and are interested in long-term business relationships with wholesalers of solar heating and OEM partners in solar thermal, but also with general contractors, architects and project developers," Stengel added.
By running a Brussels-based solar thermal consulting company, Uwe Trenkner has acquired a lot of knowledge of Europe's solar thermal industries. "Whereas neighbouring Greece and Turkey have been strong solar thermal markets – most of all, for small inexpensive solar thermal systems – Bulgaria, until now, has definitely not been one," he said, adding that under excellent meteorological conditions, the perspectives for solar thermal energy in Bulgaria shouldn´t be too bad. In his view, solar thermal energy was a suitable technology not only for domestic heating and cooling, but also for industrial processes. Trenkner pointed out that "about 20 % of the heat needed in the industry is less than 100 °C. Therefore, solar process heat could save the industry a lot of energy and money."
More information:
The Energy Renovation of Bulgarian Homes (ERBH) ended in December 2015. Find further details below.
Country / Region

Bulgaria

Name of programme

 

Energy Renovation of Bulgarian Homes (ERBH)

Type of incentive

Combination of grants and loans

Eligible techno-logies

Different measures for energy efficiency and installations of renewable energies, such as solar thermal systems or biomass heating.

Applicable sectors

 

Residential sector: buildings constructed before 26 April 1999 and consist of at least three floors and six apartments

Amount

Applicants can cover 50% of their project costs with a grant and have to co-finance the remaining investment themselves. This can also be done by applying for a low-interest loan.

Maximum incentive

 

There is no set limit on grants and loans.

Carryover provisions (with tax credits)

 

The involved municipalities can grant home owners a tax relief for a period of up to seven years.

 

Require-ments for system

The programme documents do not stipulate any specific requirements for the solar thermal installation.

 

Require-ments for installation

The Ministry of Regional Development and Public Works will appoint project managers for each of the seven planning regions of Bulgaria. They shall decide which buildings are suitable for energy-efficient renovation and support applicants in realising their projects.

 

Finance provider

Ministry of Regional Development and Public Works

Corporate Commercial Bank to co-finance loans

 

Total funds

 

EUR 25 million for grants, EUR 6.5 million for loans

Funding sources

EU Structural Fund Operative Programme "Regional Development"

Effective date

July 2012

Expiration date

July 2015

Website

 

Last review of this tabloid

April 2012

Contact

Ministry of Regional Development and Public Works

Sv. Sv. Kiril i Metodi Street 17 – 19

1902 Sofia

Bulgaria

Phone: 00359/2/9405 415 and 00359/2/9405 417

Email: eeproject@mrrb.government.bg

 
Country / Region

Bulgaria

Name of programme

 

Energy Renovation of Bulgarian Homes (ERBH)

Type of incentive

Combination of grants and loans

Eligible techno-logies

Different measures for energy efficiency and installations of renewable energies, such as solar thermal systems or biomass heating.

Applicable sectors

 

Residential sector: buildings constructed before 26 April 1999 and consist of at least three floors and six apartments

Amount

Applicants can cover 50% of their project costs with a grant and have to co-finance the remaining investment themselves. This can also be done by applying for a low-interest loan.

Maximum incentive

 

There is no set limit on grants and loans.

Carryover provisions (with tax credits)

 

The involved municipalities can grant home owners a tax relief for a period of up to seven years.

 

Require-ments for system

The programme documents do not stipulate any specific requirements for the solar thermal installation.

 

Require-ments for installation

The Ministry of Regional Development and Public Works will appoint project managers for each of the seven planning regions of Bulgaria. They shall decide which buildings are suitable for energy-efficient renovation and support applicants in realising their projects.

 

Finance provider

Ministry of Regional Development and Public Works

Corporate Commercial Bank to co-finance loans

 

Total funds

 

EUR 25 million for grants, EUR 6.5 million for loans

Funding sources

EU Structural Fund Operative Programme "Regional Development"

Effective date

July 2012

Expiration date

July 2015

Website

 

Last review of this tabloid

April 2012

Contact

Ministry of Regional Development and Public Works

Sv. Sv. Kiril i Metodi Street 17 – 19

1902 Sofia

Bulgaria

Phone: 00359/2/9405 415 and 00359/2/9405 417

Email: eeproject@mrrb.government.bg