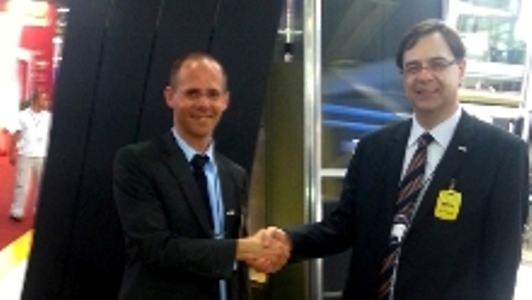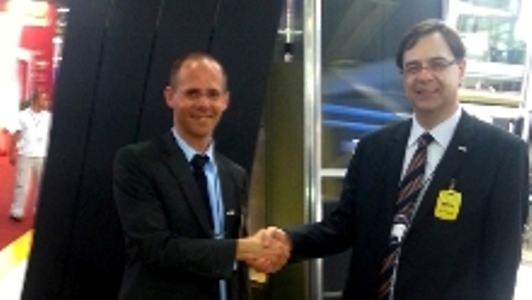 Brazil/Israel: Long-Term Strategic Partnership in Marketing and Product Development
Start of an intercontinental cooperation: Michael Sessler (left), Vice President of Business Development at Israeli company Magen eco-Energy, signed an agreement with Luis Augusto Ferrari Mazzon (right), CEO of Brazilian collector manufacturer Soletrol during the Feicon trade fair in São Paulo in March 2014. The agreement will allow Soletrol to market Magen's well-known unglazed Heliocol collector and the newly launched glazed eco-Spark collector – both designed to heat residential and public swimming pools.
Photo: Magen Eco-Energy
"Our agreement with Soletrol constitutes a crucial strategic move, as it opens up the world's third-largest market for swimming pool solar heating," Sessler says. In recent years, Magen has already increased its market shares in the two major solar pool heating markets, the USA and Australia. "However, now, as we enter the Brazilian market through the largest Brazilian solar thermal system supplier, we will be clearly positioned as the world leader in the field of solar pool heating," Sessler adds. The polymer pool heating absorbers are manufactured on a new automated production line recently built in Magen – a production line which has resulted in very competitive prices. In addition, an agreement between Brazil and Israel is reducing import taxes for Israeli products by 2 percentage points annually. The agreement has been in place for 5 years now and has already reduced the import tax from 20 to 10 %.
Magen's systems will be offered in Brazil under the joint brand name Soletrol-Heliocol Technology. The pool collectors are made from polymers and encased in a special cover to increase energy output. According to Magen, the system allows for an extension of the swimming season at residential swimming pools and reduces energy expenses of public swimming pools. "The new model of light-glazed polymer collectors is a breakthrough in the field of solar pool heating and we see more and more customers in emerging markets use those panels for pre-heating and even domestic solar hot water," Sessler explains.
Brazil's Soletrol, with headquarters in São Manuel in the state of São Paulo, can look back at more than 30 years in the solar thermal sector, having sold around 300,000 m² of glazed collector area in the private and public sector annually. So far, unglazed pool heating collectors have not been part of the Brazilian company's product range. Both partners foresee a long-term strategic perspective "with joint activities that might lead to a continued development of products and production methods tailored to the needs of the Brazilian market," as it says in a press release published at the beginning of June.
More information: