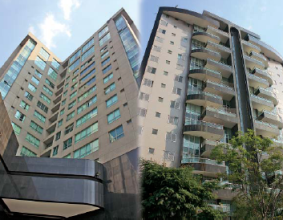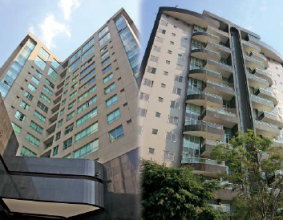 Multi-family buildings in Brazil
Brazil: Solar Water Heater Case Studies in Multi-family Housing
In cooperation with engineering office SE-Studio Equinócio, the International Copper Association (ICA) Latin America has released a publication which highlights the use of solar heating in large residential buildings. Three installations that have been monitored for several years show the economic, environmental and operational results of solar hot water use. The main conclusion: Solar heating reduces gas consumption by between 30% and 50% and pays back in less than four years (see the attached PDF in Portuguese).
Photo: ICA

The first project which has been monitored during the last years is an installation at the Mundo Apto Cambuci building in the city of São Paulo. The block of flats was built in 2007, with three towers of 142 units each. On the top of these towers, a total of 589 m² of collector area provide the energy for domestic hot water, which is stored in three 12,000 litre tanks (all in all, 36,000 litres).
The system's accessibility is one of the project's highlights. A stairway leading onto a catwalk allows direct access to the solar collector fields. The design avoids shading and guarantees that maintenance can be carried out with a lower risk of accidents. The installation saves 13,700 m³ of gas per year or Brazilian Real (BRL) 34,000 (around EUR 14,300).



Project

 




City

 




Year of installation

 




Number of flats

 




Collector area

 




Daily hot water demand

 




Solar fraction

 




Payback time

 




Mundo Apto Cambuci

 




São Paulo

 




2007

 




426

 




598 m²

 




23,000 litres at 38°C

 




55 %

 




3.3 years

 




Villa Régia

 




Bela Horizonte

 




2009

 




28

 




120 m²

 




13,170 litres at 45°C

 




51 %

 




n/a

 




Yourself Total Living

 




Bela Horizonte

 




2006

 




n/a

 




98 m²

 




16,252 litres at 50°C

 




41 %

 




Less than 4 years

 

Key figures of the three monitored multi-family houses

The second project is a retrofit at the Villa Régia building in Bela Horizonte, at which the use of solar water heaters has already been part of the building contractors' company culture. The decision to install the domestic hot water system in 2009 was taken by the flat owners themselves who wanted a more cost-effective solution. The 28-unit building, which had a central gas heating system, now possesses 60 collectors of 2m² each. Capacity has been increased to 10,000 litres of hot water, which is stored in four tanks connected to each other.
Since September 2009, the solar system has achieved savings of 51%, which could be higher if the surroundings did not throw shadows on the collector field at some time during the year. Annual operational costs for gas water heating have decreased by BRL 20,000 (EUR 8,400). Correct operation of the system over ten years could result in total savings of EUR 200,000.
The third project is located in Bela Horizonte, too. The Yourself Total Living was built in 2006 and has 17 floors with multiple flats, and nine offices and five retail stores on the 1st floor. Although the solar system was set up only after a retrofit, it had already been included in the building´s original design. Hence, there have been no problems with accessibility or shading in this case.
The system on this third building consists of 49 solar collectors with a total area of 98 m². They heat 8,000 litres of water per day inside two equally-sized tanks. The monitoring of the solar and secondary systems has been integrated into the building's circuits and provides information, such as the temperature in the water tanks or the amount of gas consumption, or reports emerging problems. Between 2010 and 2011, energy from the sun covered 41 % of the building's annual hot water demand. Annual gas costs have decreased from BRL 44,716 (EUR 18,795) to BRL 26,640 (EUR 11,197). The payback time was less than four years.