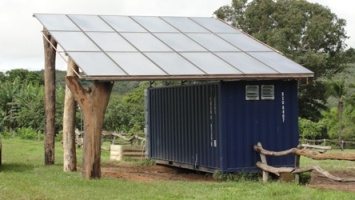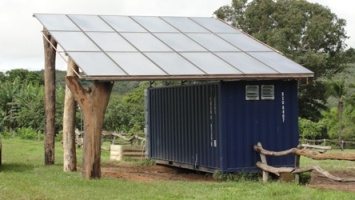 Brazil: Solar Cooling System from Germany for Eco-Hotel Pousada do Parque
Since the beginning of 2011, solar cooling technology from Thuringia/Germany ensures a pleasant indoor climate in the rooms of the eco-hotel Pousada do Parque in Cuiabá, Brazil. On 15 January, the pilot plant came into operation, and since then, it has not only provided cold water, but also important input for a current campaign to accelerate the use of solar cooling technology in the Brazilian hotel sector.
Photo: Pousada do Parque
The project was initiated by the owner of Pousada do Parque, Oswaldo Murad, together with German engineering office Menz Gebäudetechnik. Also involved are the regional branch of the German Solar Energy Society (DGS) in Thuringia, as well as German companies JSJ Jodeit GmbH (project leader) and Siceram GmbH, which developed the cooling system together with Menz Gebäudetechnik. After the successful test run in Germany, the components were shipped to Brazil in late September.
The solar cooling system of the Thuringian consortium heats water in solar collectors (36 m2) from Rehau (Germany). The heated water delivers energy for the adsorption chiller (10 kW cooling capacity) by German company Invensor, which in turn produces cold water. The cold water cools the rooms of the eco-hotel similar to the principle of a floor heating system.
"A turbulent time ended with the commissioning of the solar cooling system on 15 January," reports Murad. "The system arrived in Brazil with more than a four-week delay and had to be installed in just four weeks. Thanks to the many helpers from Brazil and Thuringia, we were able to get the system running only five days late."
Sandra Souza da Silva, project engineer at Menz Gebäudetechnik, stayed in Brazil during the entire installation period. She reports that the start went smoothly and that the system cools the rooms as well as expected.
About 50% of the project costs were financed by the Public Private Partnership (PPP) programme of the German Federal Ministry for Economic Cooperation and Development (BMZ) and the German Investment and Development Company (DEG). The PPP Programme supports pilot projects which have to be supplemented by additional training. The remaining costs are shared by the project participants.
The operation of the pilot plant will be monitored and documented to collect necessary data for the commercial use of solar cooling technology in Brazil. Parallel to the technical implementation and in cooperation with the University of Cuiabá, the Regional DGS Association of Thuringia is developing an information campaign for solar cooling in Brazil. Seminars for hoteliers and installers have been scheduled for this purpose, including a visit of the pilot plant in Cuiabá. The stated aim of the Thuringian consortium is to promote the use of solar cooling systems in Brazilian hotels, and to make the already installed prototype commercially available.
In addition, the DGS supports the University of Cuiabá in setting up a course of studies called "Renewable Energies". To that end, two DGS lecturers will offer a training programme about photovoltaics and solar thermal for the teaching staff of the university in Cuiabá in February.
"70% of the Brazilian households use electricity for water heating. 30% of the total domestic electricity is consumed for this purpose," explains DGS Thuringia President Antje Klauss-Vorreiter. "Due to the prevailing climatic conditions in Brazil, the use of air conditioning and refrigeration equipment is urgently needed. Particularly hotels have a high demand for hot water and air-conditioning, which could be economically met by solar energy."
More information:
http://www.pousadadoparque.com.br
http://www.dgs-thueringen.de
http://www.jsj.de
http://www.jsj.de/siceram/en_index.html
http://www.menz-general-engineering.com
http://www.invensor.com
PPP project: http://www.deginvest.de/DE_Home/Leistungsangebot/
Foerderprogramme/PPP-Programm_neu/index.jsp (German only)
Contact for the training programme at Cuiabá University in February:
thueringen@dgs.de