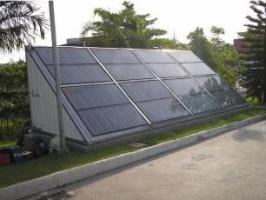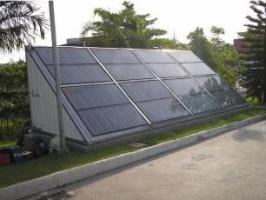 Brazil: Solar Car Wash saves Water and Chemicals
Solar plug'n'play solution in Brazil: The unit developed by Brazilian company E2 Solar consists of a solar roof with 16 collectors and a storage tank with a capacity of 2,500 litres.
Photo: Petrobras
Simple ideas can make a big difference – for example, to reduce the amount of water and chemicals used to clean cars, as has already been done at a gas station by Petrobras Distribuidora in Rio de Janeiro's suburb of in Barra da Tijuca. The company is the first in Brazil to use solar technology for washing vehicles.
The gas station's system is called Solar Thermal Power Plants (UST) and consists of 16 flat plate collectors and a storage tank with a capacity of 2,500 litres. Responsible for developing this plug'n'play solution was Brazilian company E2 Solar.
According to the system's supplier, USTs are pre-assembled and tested at the factory and are produced for a life-cycle of more than 20 years. Moreover, a system's shipment comes with all necessary equipment for a faster installation and commission.
In Barra da Tijuca, the UST was installed next to the car wash, delivering hot water at temperatures of more than 80ºC. The solar-heated water is then directed to an automatic mixer system, which adjusts the water temperature to 45°C, in order to avoid damage to vehicles and increase the production of hot water.
There are two reasons for the very satisfying experiences with the new solar heating system: First, the hot water has a degreasing effect that reduces the use of chemicals by half. Second, the gasoline station owner noted a reduction in water consumption as well. The flow rate of 12 litres per minute in the solar circuit produces 720 litres of hot water per hour, which is enough to wash between 10 and 20 cars – a considerable saving compared to the more than 100 litres of water usually spent on cleaning just a small car, according to a study by the University of Campinas (Unicamp).
More information:
http://www.e2solar.com.br/
This text was written by Carlos Faria Café, Director of SE-Studio Equinócio – Marca Solar Group based in Brazil (café@studioequinocio.com.br – http://www.studioequinocio.com.br).