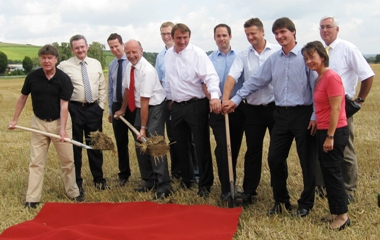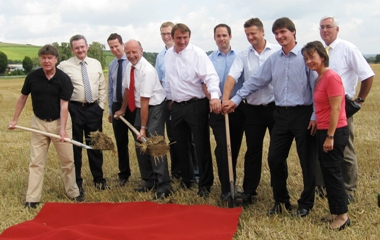 Bluetec´s Expansion Plans: Coating Line for Aluminium Coils
Turning the first sod: The German coating specialist Bluetec GmbH & Co KG, based in Mid-Germany, is planning to convert 46,000 m2 of grain fields in Eberschütz into a building ground for a modern solar thermal factory next year. Photo: Bluetec
On August 22nd, Bluetec turned the first sod on the former grain fields, an event also joined by the town´s mayor, Bernhard Klug, and the minister for economic affairs in Hesse, Dieter Posch. The factory building itself will be built up in February next year, with the production line for the coating of absorber plates beginning to operate in summer 2010. Besides the new production facility, Bluetec is also going to set up a new office building for the entire administration. Altogether, it will invest more than a double-didit million-Euro sum and create several new jobs. "In the end, we will have twice as much people working for Bluetec," Ralf Blessing, one of Bluetec´s managers, says.
The new site will primarily process aluminium coils, whereas the already existing coating line in the town of Bad Karlshafen will focus on the highly-selective coated copper for solar thermal applications. With the new factory, production capacity will increase significantly. "We will open our product range to new markets," Gerhard Stamm, a colleague of Blessing in the management team, announced.
Bluetec is one of the leading companies for coatings, serving the solar thermal market with highly-selective coated absorber band worldwide. Engineers with experience in the field of glass and metal coating founded the company in 2005. Today, Bluetec is using the magnetron sputter technology in a totally automated production line, running from coil to coil.
More information:
http://www.bluetec-germany.de