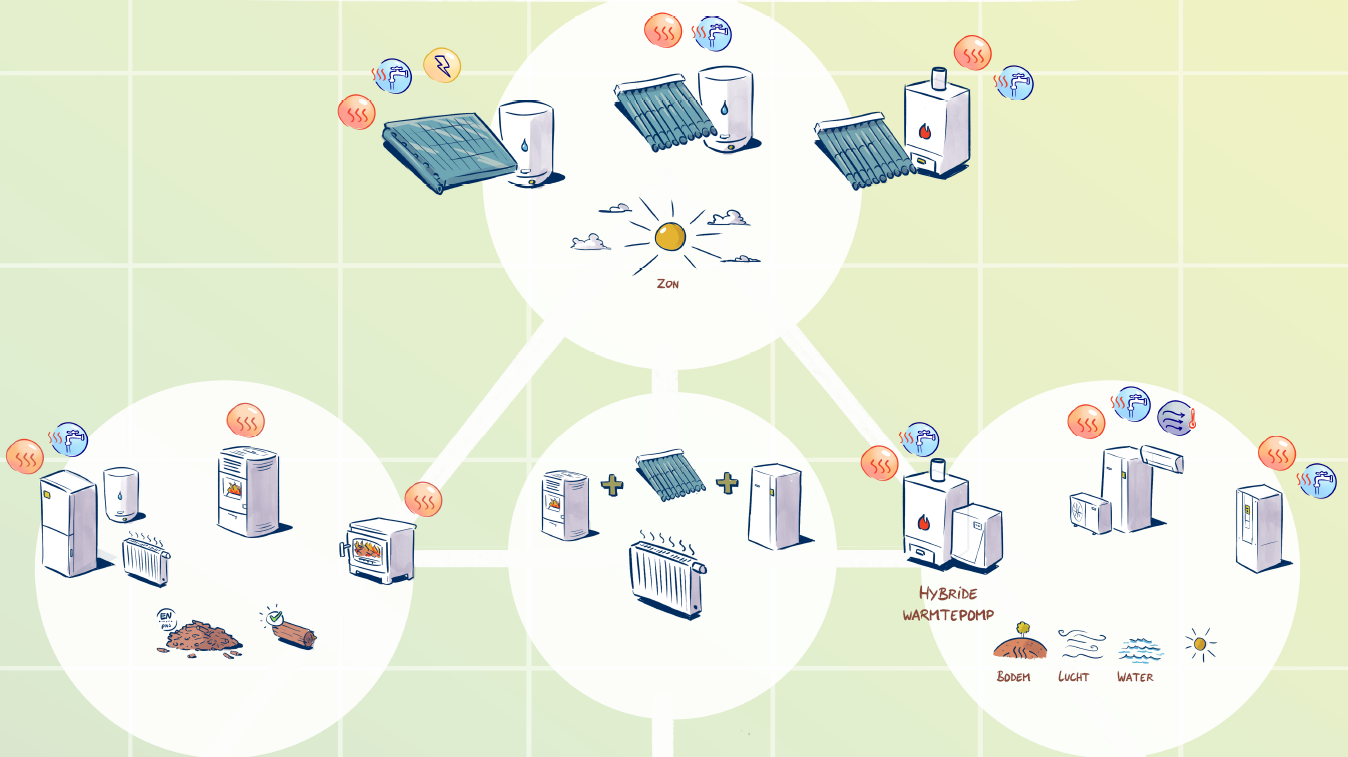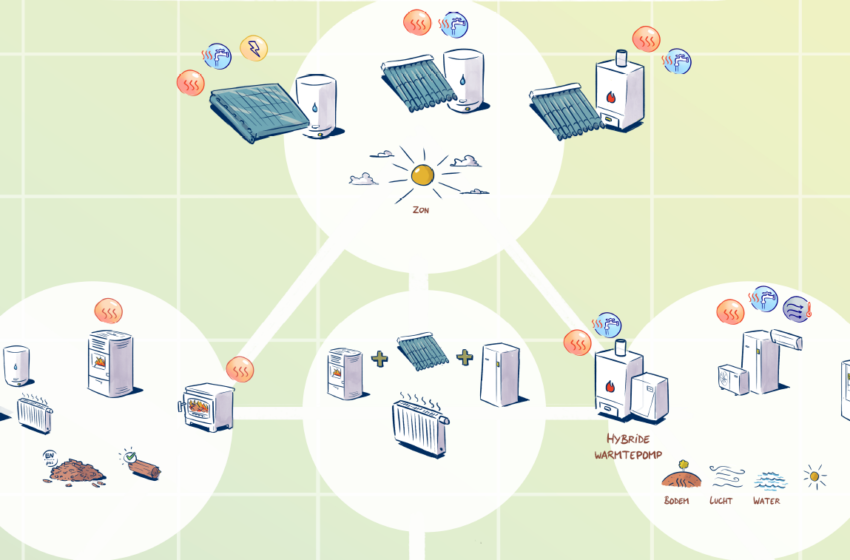 Big plans for heat pumps but not for solar hybrid systems in the Netherlands
The Dutch association Holland Solar is disappointed about the latest proposal from the Ministry for Economic  Affairs and Climate regarding the national subsidy scheme ISDE for renewable energy solutions. In a letter dated 28th October the ministry announced plans to increase investment grants from 20 to 30 % by 1st January 2022 for hybrid heat pump systems in combination with gas boilers, but does not mention solar thermal or PV-thermal as eligible technologies for the increased subsidy rates. In response, Holland Solar has sent a position paper to the ministry explaining the great added value that solar thermal systems as hybrid solutions have in the energy transition. 
Graphic: Holland Solar
In the letter of 28th October the State Secretary of the Economic Ministry, Dilan Yeşilgöz-Zegerius, argued that "a hybrid heat pump can play an important role in reducing CO2 emissions in the built environment, especially in the short term in areas where no completely natural-gas-free alternatives, such as a heat network, are foreseen for the next 10 to 15 years". Yeşilgöz-Zegerius addressed the letter to the Chair of the House of Representatives to inform the legislators about the ministry´s plans in adapting the incentive programme ISDE.
In the Netherlands a hybrid heat pump is understood as one that works together with, for example, a gas boiler, which acts as a backup for cold winter periods and hot water preparation. "This technology is currently often used as a transition system in the Netherlands, as it is less expensive than a fully-electric heat pump heating system", explained Seska Trip, Policy Officer at Holland Solar.
EUR 3 million for a public campaign
The ministry described the plans to increase the subsidy to 30 % of the average total investment costs, committing an additional budget for the ISDE of EUR 282 million over the next three years (2022 to 2024). "In addition to making the purchase of a (hybrid) heat pump more attractive in this way, EUR 3 million is earmarked for an accompanying publicity campaign, as part of the Hybrid Heat Pump Action Plan", wrote Yeşilgöz-Zegerius.
"In general we support the policy of increasing subsidies for hybrid heating systems, but the proposed initiative ignores an important technology," protested Trip. "Solar thermal systems in combination with other technologies such as gas boilers, heat pumps or biomass boilers are also good hybrid solutions, but they are not explicitly mentioned in this letter as being eligible for the increased subsidy rates, which means they will continue to receive 'only' a 20 % investment grant."
In the position paper, Holland Solar made it clear that solar heat is 100 % sustainable and emission-free and relieves the electricity grids when this is really needed. It is a well-proven technology and has been in use for decades all around the world. Furthermore, Holland Solar explained that solar thermal systems, either collectors or PVT elements, can be combined with any energy-efficient boiler or heat pump. A one-page infographic illustrates the different renewable hybrid heating systems and their technologies.
1.5 million buildings should be natural-gas-free by 2030
A short recap of the history of natural gas heating in the Netherlands: as large natural gas reserves were discovered in the 1950s, today more than 95 % of all buildings are heated with gas. A rethink started as early as 2016 when earthquakes resulting from natural gas exploitation damaged a lot of buildings. Since then, the government has been working on strategies to reduce the use of gas for heating in the country, which resulted in the
Dutch Climate Agreement
implemented in 2018, which includes, for example, the target that 1.5 million buildings should be natural-gas-free by 2030.
More information: