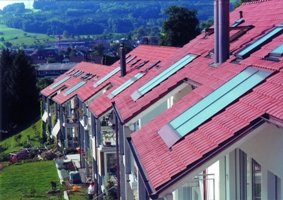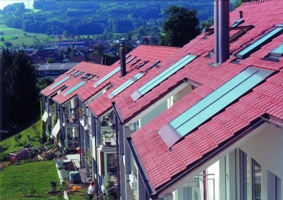 Solar water heating systems in the city of Hedingen, Switzerland
Basel-Country: At Least 50 % Solar Share in Domestic Hot Water in New Buildings
More and more Swiss cantons approve mandatory laws or requirements for a solar share in the domestic hot water supply of residential, public or commercial buildings. These solar water heating systems were built on a voluntary basis.
Photo: Ernst Schweizer AG
The Basel-Country canton is the second in Switzerland after Vaud to introduce a solar obligation for domestic hot water. At the first of July, a revised version of the "bye-law of the efficient energy use" (see attached document in German) will come into effect in this canton in the north of Switzerland. § 15 stipulates that at least 50 % of the hot water demand at all new residential buildings, schools, restaurants, hospitals, indoor swimming pools and other premises with a high domestic need for hot water is to be covered with renewable energies.
These rules also apply in case of a major retrofitting of the domestic hot water system, but not if one simply exchanges the heating boiler. Eligible technologies include among others solar water heating systems, wood energy, district heating and geothermal plants. From the 1st of July on, officials will not approve building permissions of buildings concerned, until planning includes a solar water heating system that covers at least 50% of the domestic hot water demand.
A key issue is whether mandated solar plants will still be eligible for the canton-wide incentive programme? Nothing will change during the transition time until the end of the year, says the energy service division of the Canton of Basel-Country. But in autumn, a new incentive guideline for 2010 will be published, which most probably will no longer subsidise solar systems that have become mandatory.
Neuchatel is the third canton to have approved a separate solar building code for domestic hot water (see news on solarthermalworld.org). All new buildings are now to be equipped with a solar thermal system covering more than half of the annual hot water demand (minimum 51 %). Unfortunately, opponents announced a referendum and are about to gather the 4,500 signatures, which are necessary to start the referendum. "If they succeed, the building code cannot come into effect until next year," confirms Jean-Luc Juvet, head of the energy service division at the energy authority in Neuchatel.
But the good news: The advocates of the referendum are not against the requirements for solar water heaters in the bye-law. "They argue against the fact that home owners will be forced to renovate their homes if they are below a certain efficiency standard," explains Juvet. That means that the organizers of the referendum do not question the solar obligation for domestic hot water. Even so: in case the public opinion opposes the building code, the whole law has to go through Neuchatel´s parliament again and this will delay it coming into effect.