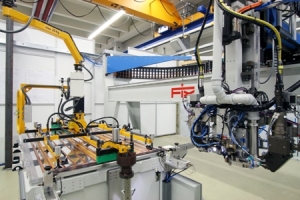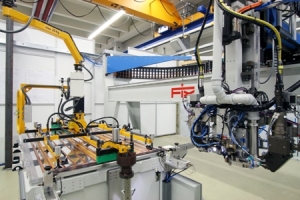 Austria: Winkler starts Serial Production of Solar Collectors
One collector factory, one contractor: Austrian collector manufacturer Winkler Solar had commissioned German machine supplier Fix Maschinenbau to design and set up an entire absorber and collector manufacturing line.
Photo: Fix Maschinenbau
The Austrian collector manufacturer Winkler Solar GmbH from Feldkirch started operating their new collector manufacturing line at the beginning of March 2010. The entire line from start to finish was designed and set up by just one industrial engineering company: Fix Maschinenbau GmbH, Germany
Winkler Solar, which has so far produced and installed only large-scale collectors, has now officially entered the market for serial production of standard collectors. "The decisive factor for us was the number of requests we received again and again from customers, for example, from Italy or Mid-Germany – places to which the transport of large-scale collectors would have been a very complex task. Managing Director Martin Winkler explains the company's decision. "The new Omnisol collectors allow us to cover a larger area than before. We can therefore generate growth even outside our traditional sales regions, such as the Allgaeu and Austria."
He chose a general contractor, which supplies him with an entire absorber and collector manufacturing line, because, "you cannot make half-hearted decisions when it comes to serial production". Right now, he is thinking of a capacity of 30,000 m² per year in a first step. The second stage of expansion is then going to increase capacity to 100,000 m².
The manufacturing lines include a laser-welding machine, which can process aluminium sheets that are only 0.3 mm thick – common are nowadays sheets with a thickness of 0.5 mm. For assembling the entire collector, a turning station will afterwards rotate the laser-welded absorbers by 180 degrees, but without allowing them to be twisted in the process. Mounting the collectors is done at a semi-automatic plant with two workstations. When the first worker has finished his tasks, he confirms them on a terminal, which will prompt a sliding table to move the semi-finished product to the second workstation. The second worker, who also operates the welding machine, can then complete his production tasks there.
Start of operation

March 2010

General contractor

Fix Maschinenbau

Automation

Semi-automatic

1. Stage of expansion: Total capacity




    Cycle time

11,000 collectors/year (single shift)




8 minutes per collector

2. Stage of expansion: Total capacity




    Cycle time

36,000 collectors/year (single shift)




3 minutes per collector
Key figures of the collector manufacturing line by Winkler Solar
Source: Manufacturer's statements
Delivered was the manufacturing line by the company Fix Maschinenbau GmbH based in South Germany. Three and a half years ago, the Swabian engineering company, which grew larger together with the automobile industry, began to look for future markets and discovered the solar thermal industry as one opportunity besides the markets for photovoltaic technology and fuel cells. "Our assessment is that more and more solar manufacturers will move from manual to automatic production," John says.
The company has chosen absorber manufacturing with laser-welding machines as the key process for its further automation and quality improvement of collector production, which is a very apt option in that respect. During market research, the Swabian plant manufacturer encountered the Liechtensteiner company Go Innovate AG and its CEO Christian Goritschnig, who had already supplied heating corporation Vaillant with a laser-welding machine. Fix Maschinenbau has entered into an world wide agreement with Go Innovate AG for being the exclusive partner when it comes to showcasing and further developing this kind of technology on the market.
More information:
http://www.go-innovate.com
http://www.winklersolar.com
http://www.fix-utz.de