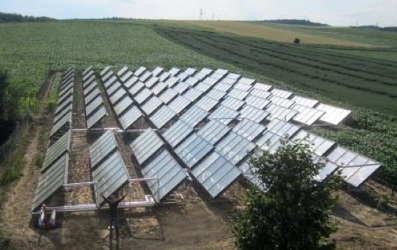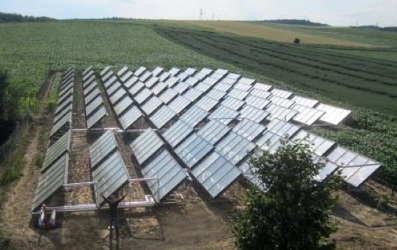 Austria: Solar Process Heat Cheaper than Oil Boiler
The solar process heat plant at Fleischwaren Berger in Sieghartskirchen, Austria, went into operation in July 2013. With its 1,067 m² of high-temperature flat plate collectors, it pre-heats water for steam and hot water production. According to calculations by Austrian company SOLID, which was responsible for the planning and the turnkey installation, the solar plant can deliver usable heat at lower costs than the existing oil boiler over a 25-year period and with a favourable interest rate.
Photo: Green Foods
Family-owned meat processing company Fleischwaren Berger consumes about 14 GWh of oil per year, plus 10 GWh of electricity, leading to an energy bill of EUR 2 million annually. Simulations predict that the solar system, which was installed by SOLID and includes double-glazed flat plate collectors by Asgard Solarkollektoren, Graz, Austria (formerly Ökotech), will cover 4 % of the factory's total heat demand, saving 45,000 to 50,000 litres of the yearly 1,2 million litres of oil consumed at the factory. The solar installation provides heat for hot water production and pre-heats feed water for steam generation. In both cases, the system utilises waste heat first, then uses a heat exchanger to add solar heat, whereas the fossil boiler gives the system the final temperature boost.
Solar thermal plant to provide 500 MWh of useful heat annually
To measure solar's contribution to the system's useful heat, heat metres have been added to the solar components of the heat exchanger, which transfers the solar heat to the hot water or steam production cycle, respectively. The heat metres measure only the useful heat – tank and circulation losses have already been included. Simulations have shown that the solar system will provide 500 MWh (469 kWh/m²*year) of useful heat per year, supplying 4 % of the total heat demand.
A minimum of 450 MWh per year is guaranteed, provided that feed and return temperatures do not change and that irradiation is as expected. Because the plant started operating no earlier than July 2013, there has not yet been any data available for an entire year.
Key figures for heat price: investment, subsidies, lifetime and interest rate
The subsequent calculation had total system costs at EUR 790,000 (739 EUR/m²), including the costs to integrate the system into the industrial processes. They consist of EUR 738,500 for SOLID´s turnkey project, plus costs for moving soil, putting the buffer tank and control centre into the ground, as well as adding pipes and heat metres. 50 % of the project costs were covered by subsidies from the EU project for large-scale solar process heat demonstration systems,
InSun
, and another 15 % came from the Austrian Research Promotion Agency (Forschungsfördergesellschaft, FFG).
Other influencing factors were the interest rate and the lifetime of the plant. It was assumed that the investment would be paid in annuities over the system's lifetime, which means that a fixed yearly rate is paid, including clearance and interest, so that at the end of the system's lifetime, the precise amount will be paid off in full. The solar heat price is therefore the yearly rate divided by the usable solar heat per year.
Even under unfavourable conditions, solar heat remains cheaper than fossil fuel heat when including the 65 % subsidy, as the following table shows:

Interest rate/
Years

1%

2.5%

5%

7.5%

15

40

45

53

63

20

31

35

44

54

25

25

30

39

50
Table 1: Solar heat prices basedon different loaninterest rates and including the 65 % investment subsidy which was paid for the installation at Berger Fleischwaren
Because Fleischwaren Berger could take the money from cash flow, an interest rate of 2.5 % was applied to the calculation, resulting in solar heat costs of 30 EUR/MWh. To evaluate the economics, the solar heat price has to be compared to the price for fossil heat. It was assumed that the efficiency from fuel to usable heat is 80 %, leading to costs of 99 EUR/MWh for current fossil heat (including all relevant taxes). Therefore, the subsidised solar investment of the meat processing company was extremely economical, prompting Fleischwaren Berger to already plan expanding its solar energy generation: A 140 m² plant with parabolic trough collectors may follow soon.
The situation is slightly different in case no subsidies are paid (see table 2). Solar heat prices are only below fossil fuel prices, if interest rates are very low.

Interest rate/
Years

1%

2.5%

5%

7.5%

15

114

128

152

179

20

88

101

127

155

25

72

86

112

142
Table 2: Solar heat prices based on interest rate and economic life of the system and without subsidies
The above-mentioned calculations do not consider maintenance costs, neither for the solar plant, nor for the oil boiler. In addition, the turnkey costs do not include the internal labour costs of Fleischwaren Berger employees and other indirect costs. No internal rate of return (IRR) was presented for this system.
More information: