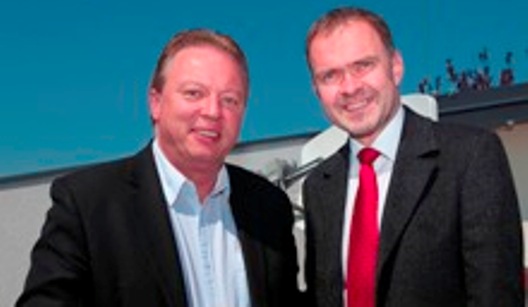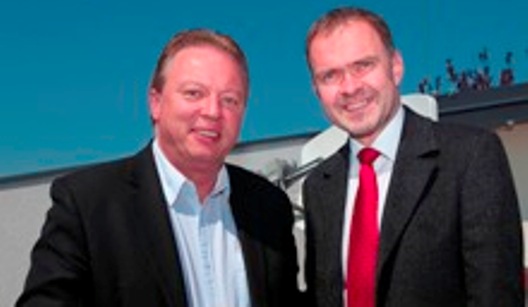 Austria: Numerous Design Awards for a Sunny Idea
Without the sun, there wouldn't be solar heat – and without sunlight, the annual report of Austria Solar would look completely blank. The company that developed the surprising and eye-catching marketing idea of making the report's content only visible by the energy of the sun is German agency group Serviceplan. Over the past few weeks, the group has received a flood of design awards for the Austria Solar report, which was sent to the trade association's members and to various representatives from business and politics at the beginning of this year. The photo shows Hannes Weninger, eco-political spokesman of the Austrian party SPÖ (left), together with Roger Hackstock, CEO of Austria Solar.
Photo: Austria Solar
Bold ideas rank in their rewards: With the first annual report, whose contents can only be viewed in sunlight, the Austrian solar thermal industry and their association Austria Solar is really turning the world of creative designers and advertisers upside down. So far, the report has received 12 international awards in gold, 3 in silver and 2 in bronze:
2 x Gold, 2 x Silver at the Festival of the Art Directors Club (ADC), Germany
On the short list for the 3 best works from 6,500 submissions to the ADC
3 x Gold at New York Festivals' World's Best Advertising Awards
1 x Gold, 1 x Bronze at the Art Directors Club (ADC) of New York
3 x Gold at New York's One Show and Award "Best of Show in Design"
2 x Gold, 1 x Silver, 1 x Bronze at the American CLIO Awards
1 x Gold at the Golden Award of Montreux, Switzerland
The British Art Directors Club, known for its sceptical jury, even nominated the annual report for best work worldwide.
The current Solar Annual Report, the brainchild of the Serviceplan agency, was published by Austria Solar in a limited special edition with light-sensitive colours. "We came to know Austria Solar during the construction of our new facility in Vienna. We later worked out the details together," says Christoph Everke, Executive Creative Director at Serviceplan Campaign.
By means of a special printing process developed in the US, the contents of each page are only visible under direct sunlight. It is the first time that this method has been used in Europe. The printing process is not the only thing special about the report: its typography is unusual as well. "We were basically focused on highlighting the important facts of the annual report. These are, of course, the figures," explains Everke. "Because the technology prevented us from using photographs, we integrated many typographical elements in order to illustrate the text."
While Serviceplan has already reaped the fruits of its idea, Austria Solar is now using the report as prestige advertising material. "They talk about us in the agency world and we try to take advantage of it, which benefits our industry image," says Hackstock. "Our industry representatives are enthusiastic about this innovative report. However, many are wondering if it will help to be world-famous among advertising companies – because that doesn't sell collectors. Politicians have partly taken notice of the report, but haven't reacted yet. However, we are working on that."
More information:
http://www.solarwaerme.at
http://www.serviceplan.com